In this area of the Apparel Search fashion brand directory, you will find men's fashion brands from leading apparel companies and fashion designers. On this particular page, you will find information regarding men's clothing with the Rocawear brand. You are welcome to utilize this section of our clothing guide to review Rocawear news, Rocawear blog posts, Rocawear photos, and more. Please understand that you may run into a few photos or a tad of information that does not actually pertain to the men's Rocawear fashion brand. Unfortunately, no search technology is absolutely perfect. We will continue to do our best to bring you as much information about the men's Rocawear fashion collection as possible.
Rocawear is an American clothing retailer based in New York. It was created in 1999 by Roc-A-Fella Records co-founders Damon "Dame" Dash and Shawn "JAY-Z" Carter. Rocawear expanded through licensing to sell clothes for children and juniors; socks and sandals, leather, suede, and fur outerwear, handbags and belts, lounge wear, big and tall, headwear, jewelry, and sunglasses.
With Roc-A-Fella Records serving as the initial launch pad, The ROC realized its prowess in expanding a culture beyond the realm of music, initiating the birth of the apparel company, Rocawear.
The Rocawear brand was purchased by Iconix Brand Group in 2007. Learn more about Iconix Brand and Rocawear here on Apparel Search.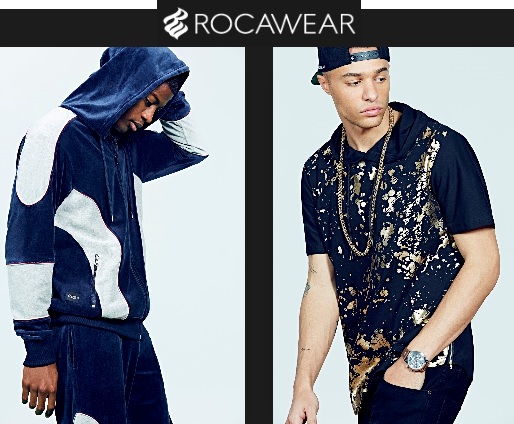 Visit the Rocawear website to learn more about the men's Rocawear fashion brand.

If you have changed your mind and do not wish to research the brand Rocawear, you can use the search engine on this page to find another clothing label that may be of more interest.
Research additional men's fashion brands from the following pages of our directory.
Have you seen our Fashion Designer Directory section.
Apparel Search is a leading guide to fashion, style, clothing, glam and all things relevant to apparel. We hope that you find this Rocawear page to be helpful.
The clothes that you are wearing today is most certainly in style.

Rocawear