In this area of the Apparel Search fashion brand directory, you will find Men's fashion brands from leading apparel companies and fashion designers. On this particular page, you will find information regarding Men's clothing with the Under Armour brand. You are welcome to utilize this section of our clothing guide to review Under Armour news, Under Armour blog posts, Under Armour photos, and more. Please understand that you may run into a few photos or a tad of information that does not actually pertain to the Men's Under Armour fashion brand. Unfortunately, no search technology is absolutely perfect. We will continue to do our best to bring you as much information about the Men's Under Armour fashion collection as possible.
Under Armour, Inc. is an American company that manufactures footwear, sports and casual apparel. Under Armour's global headquarters are located in Baltimore, Maryland.
Under Armour was founded in 1996 by Kevin Plank, a then 23-year-old former special teams captain of the University of Maryland football team. As a fullback at the University of Maryland, Plank got tired of having to change out of the sweat-soaked T-shirts worn under his jersey; however, he noticed that his compression shorts worn during practice stayed dry. This inspired him to make a T-shirt using moisture-wicking synthetic fabric. Plank soon perfected the design creating a new T-shirt built from microfibers that wicked moisture and kept athletes cool, dry, and light.
Under Armour received its first big break in 1999 when Warner Brothers contacted Under Armour to outfit two of its feature films, Oliver Stone's Any Given Sunday and The Replacements.
Products manufactured by Under Armour include athletic shoes, t-shirts, jackets, hoodies, pants, leggings, shorts and accessories such as bags, gloves, caps and protective gear.Under Armour also produces American football, basketball and soccer uniforms, among other sports. Forget about plain, old-school cotton hoodies. Built to perform, UA men's hoodies & sweatshirts are lightweight & quick-drying—without sacrificing warmth. Layer up & get going.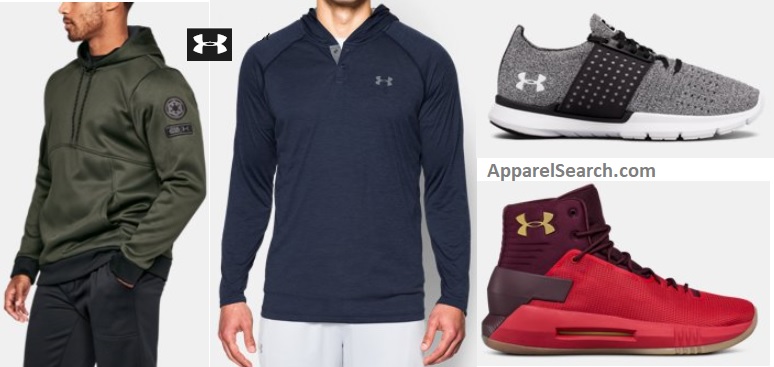 Learn more about men's Under Armour brand clothing & footwear.
If you have changed your mind and do not wish to research the brand Under Armour, you can use the search engine on this page to find another clothing label that may be of more interest.
Research additional men's fashion brands from the following pages of our directory.
Have you seen our Fashion Designer Directory section.
Apparel Search is a leading guide to fashion, style, clothing, glam and all things relevant to apparel. We hope that you find this Under Armour page to be helpful.
The clothes that you are wearing today is most certainly in style.

Under Armour