In this area of the Apparel Search fashion brand directory, you will find women's fashion brands from leading apparel companies and fashion designers. On this particular page, you will find information regarding women's clothing with the London Fog brand. You are welcome to utiLondone this section of our clothing guide to review London Fog news, London Fog blog posts, London Fog photos, and more. Please understand that you may run into a few photos or a tad of information that does not actually pertain to the women's London Fog fashion brand. Unfortunately, no search technology is absolutely perfect We will continue to do our best to bring you as much information about the women's London Fog fashion collection as possible.
Londontown Clothing Company was founded in 1923 by Israel Myers.
The company partners with DuPont to create a water repellant durable material. London Fog introduces coats for women, develops the first removable liner and patents a process to strengthen buttons and an inner barrier for extra weather protection. In the 1960's, London Fog goes public and branches out into new categories beyond coats.
London Fog has the highest quality and best prices on designer women's trench coats, raincoats, jackets, and other accessories.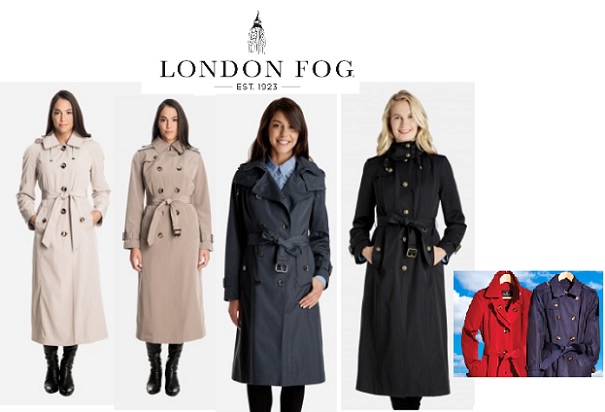 In the new millenium, London Fog appeals to a brand new generation of customers who appreciate the brand's rich history, classic design and reliability across the country.
Learn more about the women's London Fog clothing brand.
If you have changed your mind and do not wish to research the brand London Fog, you can use the search engine on this page to find another clothing label that may be of more interest.
When you are ready to research additional fashion brands for women you can try the following pages to find our alphabetical list of women's fashion brands.
Have you seen our Fashion Designer Directory section.
Apparel Search is a leading guide to fashion, style, clothing, glam and all things relevant to apparel. We hope that you find this London Fog page to be helpful.
The clothing that you are wearing today is most definitely in style. You are clearly a trendsetter.

London Fog