Here on Apparel Search you can learn more about
fashion
in many various ways. Certainly, one way is to read fashion news articles.

If you have suggestions on ways that we can improve this page, please do not hesitate to let us know.
New music artist Erica Chase was either attacked by a large pink bird or she sported the best rock and roll Easter bonnet in Hollywood as she walked out of Flasher on Melrose Ave. in Los Angeles and was spotted on the street by two paparazzi photographers. If it's a bird, somebody call an animal rescue. It's an Easter bonnet, then Fergie's daughters and the other British ladies who don those crazy hats have nothing on Erica. When Erica isn't shopping for killer rock threads, she and her Sheryl Crow-Meets-The-Beatles vibe are working on her upcoming album with multi-platinum producer Dana Strum of Slaughter.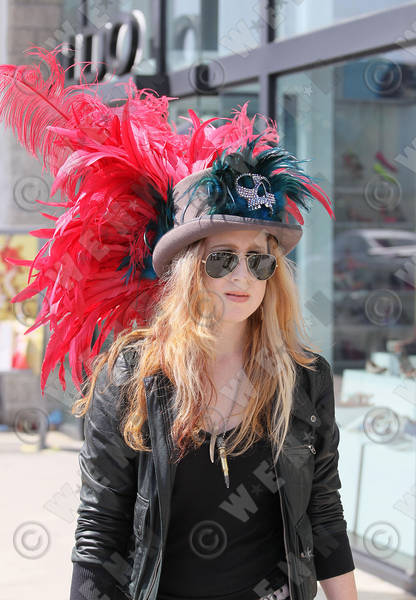 Erica Chase shopping at Flasher on Melrose Avenue Los Angeles, California - 05.04.12 Photo Credit: WENN.com
You may also want to check out our previous fashion article Rocker Chic(k) Erica Chase Trendy on the Red Carpet.
Read more fashion news articles from 2012: January 2012 Fashion Articles
Read more fashion industry news archive from 2011: 2011 Archive - Fashion Articles
Read more fashion articles from 2010: 2010 Archive - Fashion Articles
Read more fashion articles from 2009: 2009 Archive - Fashion Articles

Follow us on Social Networks:
Follow Apparel Search on Twitter
Follow Apparel Search on Youtube
Follow Apparel Search on Facebook
If you want your press releases about fashion to be published, you are welcome to submit them to Apparel Search at any time. In addition, you may want to submit your articles to the Fashion Newspaper.


Hat Stores
More Hat Stores
Hat Discussions
Fashion Trends
Fashion Trends G+
Fashion Magazines
You may also find the following links to be of assistance:

Fashion Jobs
You may also have interest in the fashion shopping articles ...
If you are tired of simply reading about fashion, you may want to take a break and do a little shopping. If that is the case, you are welcome to visit our shopping section from the links below:
Shopping For Children's Clothing

Here are a few more apparel news resources that you may enjoy.
You may want to also visit the new fashion articles site (FashionArticles.net)
Have you ever dreamed of becoming a fashion designer?