Our arrangement with Mercent has expired. Below is for historical reference only.
---
Integrate and Sell Your Retail Store Inventory through
leading online shopping marketplaces.
Have you started planning to sell your products through
Amazon.com and the other leading online shopping portals?

Take advantage of the more than 100 million customers visiting these portals each month and place your product where it can be purchased!

Integrate quickly and easily through a tested and scalable hosted application.

Mercent
Marketplace Partners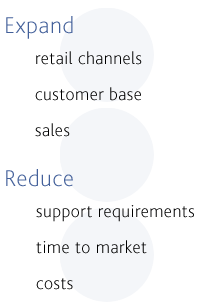 Get Started!
Our Partnership with Mercent

Apparel Search has formed a strategic partnership with Mercent to assist members of the Clothing Industry integrate with and sell your products through the leading online retail marketplaces and shopping portals.
Mercent's flagship hosted software solution, Mercent Retail, provides several unique benefits to retailing clients:
Access more than 100 million online shoppers per month while maximizing customer experience with control over products and offers
Accelerate time-to-launch with a proven, Microsoft and Amazon.com Certified application backed by 100% customer satisfaction
Reduce costs while merchandising brand and products on up to 21 leading online marketplaces using a single point of integration
Leverage existing IT investments with flexible integration options.
Maximize revenue, profits, and inventory turns while protecting your brand and consumer experience.
Promote the right merchandising offers and product content while tracking and reporting on performance.
Managed profit and inventory.
Featured Apparel Clients of Mercent Retail

About Mercent
| | |
| --- | --- |
| Founded by veterans of Amazon.com, Mercent is the preferred solution provider for online marketplace retailing. Mercentís flagship product, Mercent Retail, allows multi-channel retailers to effectively promote and sell products to more than 100 million shoppers across many leading online consumer marketplaces through one low-cost, single point of integration. Mercent Retail is a highly scalable application that facilitates the automated, scheduled exchange of product, order, inventory, fulfillment, and settlement data between a merchantís data center and consumer marketplacesí Web-services based interfaces. Mercent is a Microsoft Certified Partner, an Amazon Services Certified System Integrator, and an Amazon Services Certified Independent Software Vendor. | |
Get Started!