Fishing Vest
Fishing vests are worn by fishermen and fisherwomen as a way to keep hooks, lures, and other fishing accessories readily available. A fishing vest has numerous external pockets for carrying fishing tackle.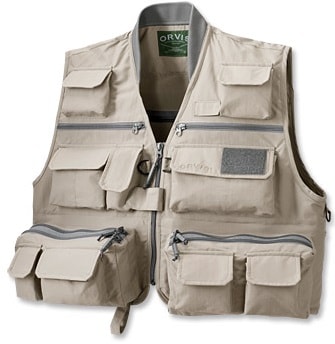 A vest is a sleeveless garment covering the upper body. The term has different meanings around the world. The term jerkin is also used to refer to this sort of sleeveless outdoor coat. The word vest can refer to outer garments, such as a padded sleeveless jacket popular for hunting, commonly known as a hunting vest.
Fishing vests come in various shapes, sizes, fabrics, and colors. Some vests are expandable, versatile and lightweight. They often have a mesh backing for ventilation during warm-weather angling. When shopping for a fishing vest, you may want to look for one made of lightweight, waterproof and breathable fabric (depending on the weather conditions where you plan on fishing).
Find top-rated fishing vests and fly fishing vests from popular retail destinations or online. You can shop for fishing vests with lots of pockets and storage for all your tackle and gear at the following stores.
Shop a wide selection of quality fly-fishing vests, hip packs and chest packs for your fishing trips. Shop the best name brand gear in fishing.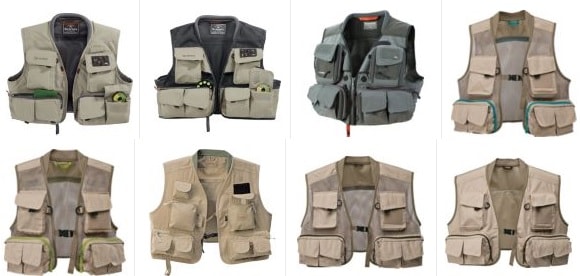 Fishing vest typically have a large quantity of exterior pockets as well as interior pockets with room to store various fishing gear.
Some fishing vests are sold by size such as small, medium, large, X-large, etc., and others are sold as one-size-fits-most. Many have adjustable shoulder and adjustable waist-strap designs. They come in various options with different features such as zip-down fly bench with replaceable foam and mesh expansion pockets for tippet spools. Vertical chest pockets hold large and medium boxes. Gear attachment tabs, cord loops and D-ring net lash. Large mesh back pocket for rain gear with an additional horizontal pocket. Each brand or style comes in different variations. You will need to review product descriptions carefully to see which features are included prior to making a selection.
Why do fisherman where camo clothing?
They are trying to hide from the fish. Does it actually help if the fish can't see you? Since the fish are looking up, should the fishing vest be in a sky blue camo rather than look like the woods & grass?
By the way, fishing vests are not only good for Father's Day. They are a great gift any time of the year.
Tip: Find the perfect fly-fishing vest crafted with plenty of pockets and compartments so that your fishing essentials are organized and close at hand. Search for lightweight mesh if you plan on fishing on hot days. Sometimes you can find a variety of fully loaded vests pre-loaded with all the tackle needed and more.
You may want to learn more about fly fishing clothing.
Learn about waders if you are planning a fishing trip in a river.
Learn about fishing inspired jewelry.
Good luck with your fishing trip.
Fashion Products Fashion Products A-F Fashion Products F
Return to the Influence Fashion home page.

Copyright 1999-2023 Apparel Search Company. All Rights Reserved.