Apparel Search "Fashion Products" Section
The "Fashion Products" section on Apparel Search is a dedicated platform offering an extensive array of clothing, shoes, and fashion accessories designed for consumers to research their personal style. It serves as a virtual resource, bringing together a wide range of information about wearable items that cater to diverse tastes, preferences, and occasions.
This navigation will help you locate the fashion products that we have added to this section. The guide is obviously arranged alphabetically.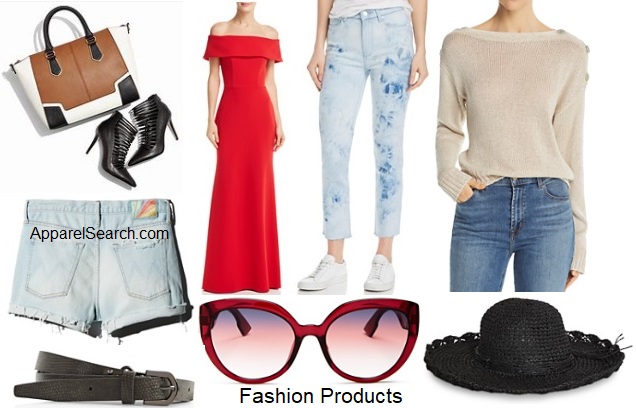 A bit more about this section of our website:
1. Clothing:
In this section, visitors can explore a vast selection of garments that encompass everything from tops, bottoms, dresses, outerwear, activewear, and more. Whether it's casual wear, formal attire, or specialized outfits for workouts or events, Apparel Search's clothing product section has something for everyone.
2. Footwear:
From stylish shoes to athletic footwear and boots to sandals, the footwear selection in the "Fashion Products" section provides options for various activities and occasions. Visitors can browse through an assortment of designs, styles, and brands to find the perfect pair that complements their ensemble.
3. Fashion Accessories:
Fashion accessories play a crucial role in completing an outfit and adding a personalized touch. In this section, consumers can discover an array of accessories, including jewelry, bags, belts, hats, scarves, and more. These accessories can elevate the overall look and make a fashion statement.
A User-Friendly Approach:
The "Fashion Products" section on Apparel Search is tailored for consumers seeking to learn about wearable fashion items without delving into complex fashion industry terminology. It's designed to provide an easy and enjoyable learning experience, enabling users to effortlessly navigate and find products that suit their style and preferences.
For Fashion Industry Terminology:
If users are interested in delving deeper into fashion industry terminology or understanding the jargon used in the fashion world, Apparel Search offers a dedicated "Fashion Terms" section. This is a valuable resource for anyone looking to expand their knowledge and gain insights into the intricate language and concepts of the fashion industry.
In conclusion, Apparel Search's "Fashion Products" section offers a curated collection of clothing, shoes, and fashion accessories for consumers who are keen on learning about & expressing their unique style through what they wear. It's a one-stop destination for all things wearable, making the world of fashion easily accessible and navigable for fashion enthusiasts. For those interested in the nuances of fashion terminology, the "Fashion Terms" section is readily available to provide a comprehensive education on the subject.
Learn more about fashion products.