Nintendo Clothing
Introduced in 1985, the NES was an instant hit. Over the course of the next two years, it almost single-handedly revitalized the video game industry. Selling over 60 million units, people brought games like Mario and Zelda into their homes for the first time on the NES.
Below is a small bit of the exciting history of Nintendo. This is only a small portion of the companies fantastic accomplishments.
Game Boy
The screen was four-colors-of-gray but the device defined portable gaming and was enormous fun. Game Boy, which came out in 1989, was closely associated with the classic game Tetris when it debuted. Game Boy is the most successful video game system ever released. Since its introduction in 1989, Game Boy has sold well over 150 million systems worldwide. Originally bundled with the game, Tetris, this little handheld became an instant phenomenon.
Super Nintendo Entertainment System
The SNES was released in 1991 and featured 16-bit technology. More processing power meant more entertaining games which helped the SNES sell more than 49 million systems worldwide.
Nintendo 64
The N64 set new standards in realistic 3D gaming when it came out in 1996. Super Mario 64 was the system's showcase game and thrilled millions with its amazing graphics and gameplay.
Game Boy Pocket
The same year the N64 came out, the Game Boy Pocket found its way into gamers' school backpacks all over the world. It was smaller than the original Game Boy and came in a variety of colors.
Game Boy Advance
Featuring a larger screen and better graphics than previous versions of the Game Boy, the GBA would go on to sell tens of millions of units worldwide after its North American debut in 2001.
Nintendo GameCube
2001 also saw the release of the Nintendo GameCube which one-upped the graphics and gameplay of the N64. It was the first Nintendo system to use optical discs instead of cartridges for its games.
Game Boy Advance SP
Released in 2003, the Game Boy Advance SP had the same size screen as the Game Boy Advance, but the GBA SP was dramatically smaller, lighter, and folded in a clamshell design to become truly pocket portable. It also featured a rechargeable battery and backlit screen.
Nintendo DS
Featuring two screens, including a touch screen, a microphone, built-in Wi-Fi capability, and backward compatibility, the DS is an incredibly successful portable gaming device beating its rivals in the marketplace by a wide margin.
Nintendo DS Lite
The Nintendo DS is smaller, lighter, and has brighter screens than the previous model and has been embraced by fans. Tens of millions of DS Lites have sold worldwide since its release in early 2006.
Wii
In 2006, Nintendo introduced the Wii and with it several advanced, revolutionary features. Wireless motion-sensitive remote controllers, built-in Wi-Fi capability, and a host of other features have made the Wii the best-selling latest generation console system in the world.
Nintendo DSi
In April, Nintendo DSi introduced a revised portable system with two cameras and wireless access to downloadable games via the Nintendo DSi Shop. Wii Sports Resort built on the Wii Sports phenomenon and included the new Wii MotionPlus accessory, which made motion controls even more precise. Wii Fit Plus brought new options and activities to the fitness software and New Super Mario Bros. Wii brought the hand-held game to the home console. The Nintendo DS family of systems set a new all-time calendar-year U.S. sales record for any console or hand-held system.
Nintendo DSi XL
Nintendo DSi XL debuted with screens that were 93 percent larger than those on Nintendo DS Lite. Nintendo and Netflix announced a partnership that would allow most Netflix subscribers to stream movies and TV shows directly through their Wii consoles. The American Heart Association and Nintendo of America formed a multifaceted strategic relationship aimed at helping people create healthy lifestyles through physically active play. The iconic American Heart Association brand appeared on boxes for the Wii Fit Plus and Wii Sports Resort software and for the Wii system itself. Super Mario Galaxy 2 was just as well-received and well-reviewed as the original, Metroid: Other M took the franchise in a new direction and Donkey Kong Country Returns revisited a classic franchise. The Wii Games: Summer 2010 competition brought thousands of people of all ages together in fun competitions.
Nintendo 3DS
On March 27, 2011 in the United States, Nintendo launches the Nintendo 3DS system, which allows users to view 3D content without the use of special glasses.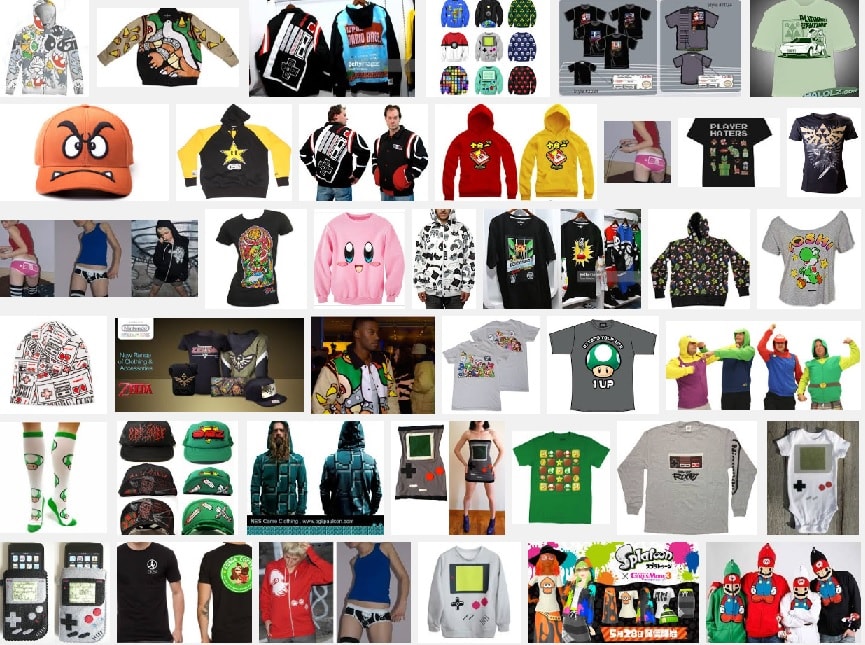 Even luxury retailers such as Bloomingdales understands the importance of gaming. You can see an example from their Nintendo fashion collection from 2018.
Fashion Products Fashion Products M-R Fashion Products N
---
Return to the Influence Fashion home page.

Copyright 1999-2023 Apparel Search Company. All Rights Reserved.