Prom Dresses
A prom dress is possibly one of the most critical choices a young girl must make in regard to fashion. However, it is very important to understand that the prom is only one night (possibly a few nights). You have a lifetime of wardrobe choices ahead. Please understand that not all choices must be perfect. You will have fun regardless of what you are wearing if you stay in a happy and positive frame of mind. The prom & the prom dress selection process should be ENJOYABLE.
Don't get stressed out.

What is the prom?
In the United States, and increasingly in the United Kingdom and Canada, prom is a semi-formal (black tie) dance or gathering of high school students. This event is typically held near the end of the senior year (the last year of high school). High school juniors attending the prom may call it "junior prom" while high-school seniors may call it "senior prom" or "senior ball". In practice, this event may be a combined junior/senior dance. However, many schools have two seperate events. One being a junior prom for juniors and a second being a senior prom for seniors. Proms figure greatly in popular culture and is a major event among high school students. If you don't believe me, maybe you need to watch 16 Candles again.
The prom is mostly about the dress, but let's give a little attention to the boys and accessories as well. The boys (young men) usually dress in black or white formal wear, regardless of the time of the event, sometimes paired with brightly colored ties or bow ties with vests, in some cases in colors matching their date's dress. Most are rented from stores that specialize in formal wear rentals (unless your parents are rich and can buy the tuxedo outright).
What is a dress?
A dress (also known as a frock or a gown) is a garment consisting of a skirt with an attached bodice (or a matching bodice giving the effect of a one-piece garment). In Western culture, dresses are more often worn by women and girls (except on prom night). The hemlines of dresses vary depending on the whims of fashion and the modesty or personal taste of the wearer. In most varieties of formal dress codes in Western cultures, a dress of an appropriate style is mandatory for women. They are also very popular for special occasions such as proms or weddings.
What is a prom dress?
A prom dress is obviously a dress that is worn to the prom. It is a dress that makes the wearer feel good about themselves on their special day.

Let's learn about dress lengths:
Long dress - a floor-length gown typically worn for evening or formal occasions.
Maxi dresses - Maxi is a term used since the late 1960s for ankle-length, typically informal dresses.
Midi dress, a mid-calf length dress.
Knee length - dress length to the top of the knees.
Mini dress - Introduced in the 1960s, mini-length hemlines hit between the knee and upper thigh.
Micro dress - very short in length. Sorry ladies, your Dad is NOT going to be happy if you were a micro dress to the prom.
Styles of Dresses: Just to be clear, we are not saying that these dress categories are actually "in style" this year. These are just various style options. Please don't wear a bustle dress and tell your friends that Apparel Search said that this was fashionable this year. It might have been trendy back in the 1870's. Trends do come and go.
Ball gown, a very formal dress, typically elaborate and floor-length.
Bouffant gown, an elaborate gown with a puffed or 'bouffant' skirt.
Bustle dress, a dress with exaggerated back fullness or detailing. (not our first choice for the prom).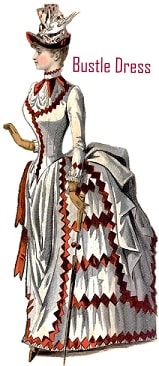 Cocktail dress, a semi-formal dress suitable for cocktail parties or similar events. (note: if you are going to the prom you are too young for a cocktail, but not too young for a cocktail dress).
Crinoline dress, a dress with an exaggeratedly full skirt supported by hoops or multiple petticoats. (1850s onwards).
Débutante dress, a white dress worn by young women at debutante cotillions.
Evening gown, a dress worn for evening or formal occasions.
Frock, a "girlish" style of dress. Frock is also a term for a type of man's coat.
Little black dress, an evening or cocktail dress, often short, a popular wardrobe staple since the 1920s.
Princess dress, a fitted dress shaped by long shaped panels and seams rather than by darts.
Sailor dress, a dress with sailor collar and styling. Also known as a Peter Thomson dress.
Sheath dress, a form fitting (or sheath-like) dress.
Shift dress or chemise, a short, sleeveless dress in a simple style with little detailing.
Shirtdress, a dress borrowing details from the style of a men's shirt, often including collar or front buttons.
Slip dress, a dress closely resembling a petticoat.
Sundress, a lightweight, usually sleeveless dress intended for wearing in warmer weather.
Strapless dress, a dress with no visible means of support (usually held up by interior corsetry or boning, or by elasticated fabric.)
Trapeze dress, an exaggerated A-line dress flaring from a fitted shoulder.
Wrap dress, a dress having a front closure which wraps around the body, forming a v-shaped neckline.
Above are only a few of the dress style options. When making a selection is it important to understand your own body type which should help you termine the appropriate style. Your figure plays an important role in regard to the garment selection.
Do you want a prom dress inspired by a Disney princess or do you want a short prom dress to upset your parents?
What else is worn at the prom?
Girls traditionally wear traditional ladies' dresses or evening gowns and adorn themselves with ladies' costume jewellery or real jewelry such as earrings and a necklace. Traditionally girls wear perfume, and make-up such as eyeshadow, lipstick and blush. Girls also wear a corsage, given to them by their dates (if the date is smart and worthy), and girls give boys matching boutonnières to be worn on their lapels.
It is important to note that just like fashion in general the styles, colors, & expectations regarding prom dresses will change from year to year. If you want to know what the girls are wearing this year, you better ask some teenagers in your region.
How to find more information about prom dresses?
We can't even begin to tell you about how many fashion blog posts and news articles have been written about prom dresses. Honestly, this is possibly one of the most popular subjects on the internet. I would not be surprise if some day, teenage girls break the internet searching for information. Here are a few article titles that you may have seen:
10 Hottest Prom Shoes
Best Plus Size Prom Dresses
20 Gorgeous Prom Dresses Under $100.
Best Prom Dresses for your Zodiac Sign
Prom Dress Hacks
Celebrity Red Carpet Dresses for the Prom
In addition to blog posts and news articles you will find tons of surveys, polls, and quizes.
What's Your Prom Dress Personality?
Which haricut should you get for the prom?
What's the best prom dress style?
What is the top prom dress color?
These are all great questions, but why does every blogger or style website think they have the perfect answer for you. The reallity is that if you are shopping for a prom dress, STOP READING. Go to a fashion boutique and try on prom dresses. The style, color, fabric selection must come from YOU. No one can tell you what dress will comfort you physically and mentally. Find the dress that matches your personal sense of style. With that said, if you are concerned about what other people think (like most teenagers are), you should consult with family and friends before making your final decisions. Trust you mother. Unless she is a real "bit.."

Here are a few resources that may be of help to you with your quest for the perfect prom dress.
David's Bridal - sure the prom is not a wedding, but David's bridal is not all about wedding gowns.
Jovani Prom Dresses - Prom dresses by Jovani are a world apart from the gowns you find on the rack. As a family business they know how important prom is to teenagers. Their sisters, mothers, cousins and daughters have all been on the same search for the perfect dress that you're on now. Jovani features a huge number of stunning prom designs, and one of them is going to be perfect for you. As the the excitement of Junior and Senior Prom builds. We know you are dreaming of making your entrance in that one of a kind dress that fits you like a glove, and this prom dress retailer can help you make it happen. Jovani desigs are lovingly crafted with the hottest fabrics and styles right now. You're going to love their brand new line for this year's prom season.
Nordstrom Prom Dresses - An unerring eye for what's next in fashion. A relentless drive to exceed expectations. For more than 100 years, Nordstrom has worked to deliver the best possible shopping experience, helping customers possess style—not just buy fashion. They utilize this special drive to offer the best in fashion when they put together the prom dress selection for customers each year.
PromGirl - PromGirl carries a large selection of prom dresses that are shown in many prom fashion magazines including prom dresses made by famous designers: Faviana, Sherri Hill, Jovani, Scala, La Femme, Jovani and many more. From cheap and inexpensive prom dresses to elegant evening gowns, they have most. First decide what length do you want? Long prom dresses and knee length dresses create an elegant and glamorous look, while short prom dresses and high low party dresses tend to look more youthful and fun. Use this retailers website to narrow your selection and find a great dress to match your figure and style.
Seventeen - teenager magazine with fashion tips about most things include the prom.
Good luck with your adventure.
Fashion Products Fashion Products M-R Fashion Product P
---
Return to the Influence Fashion home page.

Copyright 1999-2017
Apparel Search Company. All Rights Reserved.