Hoodies
What is a hoodie? In summary, it is a sweatshirt with a hood.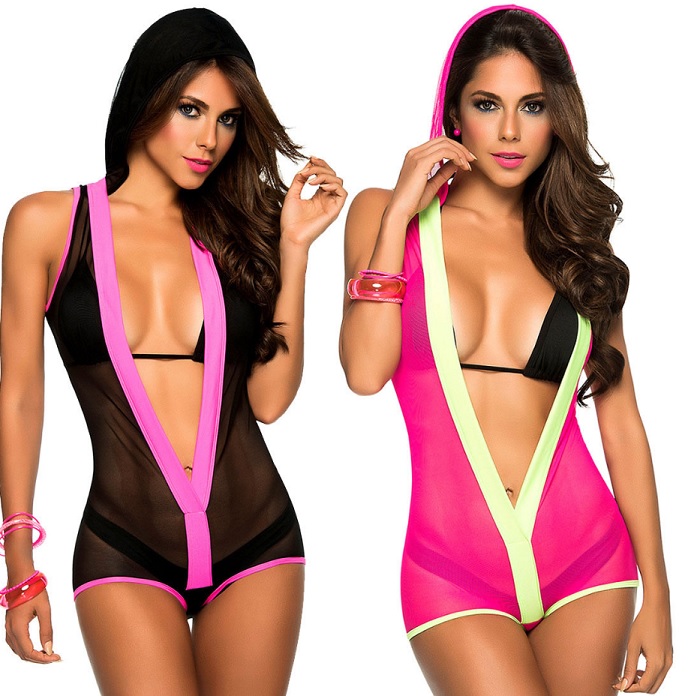 Sweatshirts are arguably a type of sweater, but they are made of a fabric and cut similar to sweatpants. A sweatshirt worn with sweatpants forms a sweatsuit which was originally a kind of exercise clothing. They were originally designed as a method for athletes to raise the core body temperature and cause perspiration (sweat) in order to lose body weight before a weigh in for a weight divided sport such as wrestling. The garment is generally fashioned out of a thick, usually cotton jersey material, but can also be made with lighter weight fabrics. Although some are 100% cotton, others can be made fully of synthetic fibers or a blend between man-made & synthetics.
In addition to using for exercise sweat shirts have become more than just fitness fashion. They are also worn to sit around playing video games, hanging out with friends, or walking your dog. Essentially, they are great all-purpose garments. Typically comfortable and casual. Sweatshirts are almost exclusively "casual attire" and are not dressy as their sweater counterparts may be. Sweatshirts may or may not have a zipper or hood. A sweatshirt be manufactured in solid colors, color blocking, or embellished with techniques such as printing or embroidery.
When sweatshirts have hoods, they are call hoodies.
The word hoodie, hoody, hoodies, and hooded sweatshirt all means the same thing. Regardless of the spelling it means a sweatshirt with a hood. Hoodies often include a muff sewn onto the lower front, and (usually) a drawstring to adjust the hood opening. Some have zippers to open the front and others are pullovers (without zippers). They can also be made as partial zip.
History of the Hoodie
Hoodies have been a documented part of men's and women's wear for centuries. The word "hood" is said to come from the Anglo-Saxon word "hôd". Let's keep in mind that Robin Hood, wore a garment with a hood. The garment's style and form can be traced back to Medieval Europe when the normal clothing for monks included a hood called a cowl attached to a tunic or robes, and a chaperon or hooded cape was very commonly worn by any outdoors worker. Its appearance was known in England at least as early as the 12th century, possibly an import with the Norman conquest of England.
The hooded sweatshirt was first produced in the United States starting in the 1930s. The modern clothing style was first produced by Champion in the 1930s and marketed to laborers working in freezing temperatures in upstate New York.
Why did hoodies become so popular?
The hoodie took off in the 1970s, with several factors contributing to its success. Most critical to the hoodie's popularity during this time was its iconic appearance in the blockbuster Rocky film. Rocky Balboa wore a hoodie for training sequences in the 1976 movie Rocky. Shortly their after, kids and grownups hit the streets running.
Young men, often skateboarders or surfers, sported the hoodie and helped spread the trend across the United States. The rise of hoodies with university logos has become an important component of youthful culture in the United States and around the world. Hip hop culture developed in New York City which also contributed to the popularity of hooded sweatshirts. High fashion also got in the game over the years which put the style onto the runway and into fashion magazines.
Hoodies for the cold weather:
Hoodies are a popular clothing item—they are sometimes worn under a coat or jacket to provide an extra layer of clothing during the winter. In the province of Saskatchewan, Canada hoodies are often referred to as "bunny-hugs."
In addition to being used to layer up, the hood is very helpful for keeping the wearers ears and head warm. As they say, people lose a great deal of body temperature from the head and hands. In addition to the warming hood, most hoodies have large pockets (pouches) to keep your hands. In recent years in England and other countries, many older people have been seen wearing hoodies, particularly in cold weather. This type of apparel is not only a trendy style for youth.
Do hoodies have a bad name?
In the United Kingdom (and other countries), hoodies have been the subject of much criticism; some shoplifters have used the hood to conceal their identities from CCTV cameras in shopping centers.
During the 21st century, the hoody had gained a negative image, being associated with trouble making teens and anti-social behavior.
Even Theodore John Kaczynski had a famous image of being spotted in a hoodie. Yes, I am referring to Ted Kaczynski who was the "Unabomber". Ted was an American anarchist, mathematical prodigy, and domestic terrorist. The artist sketch that was publicized when they were trying to catch him was of Ted in a hooded sweatshirt.
In the opinion of Apparel Search, the fact that crimes have been committed is not the fault of the hoodie. Obviously bad intention is only the fault of the wearer. It is a shame that a criminal element can potentially give this "perfectly good garment" a bad name.
Common Usage: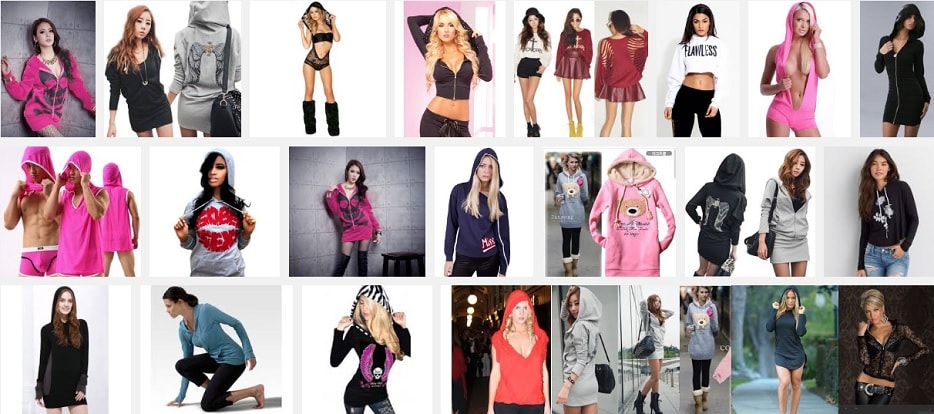 Throughout the United States, it is common for middle school, high school, and college students to wear sweatshirts—with or without hoods—that display their respective school names or mascots across the chest, either as part of a uniform or personal preference.
They are also worn with sports team logos, business logos, cartoon characters, funny statements, and other novelty prints.
Hoodies have become mainstream fashion in the U.S., transcending the clothing item's original utilitarian purpose, similar to jeans.
The hooded sweatshirt is handy garment to keep us warm, dry (in very light rain, and only temporarily dry depending on the fabric), and generally comfortable. It is now extremely popular all around the globe for a variety of reasons.
If I were to pick the top three clothing items that I would want in my wardrobe, it may be a white t-shirt, blue jeans, and a hoodie (if I could have four, I would toss in at least one pair of underwear).
Learn about other types of shirts.
Hoodies don't have to only be made from thick & heavy sweat shirt material. They can be made of thin light weight fabrics as well.
By the way, it may be time to throw out that old ratty looking sweatshirt. We understand that it is your favorite, but enough is enough. Sorry, but they don't last forever. If you absolutely can't part with it, the least you can do is stop wearing it in public.
Watch this amazing video to learn more about hoodies.
If the above embedded video is not working for some reason, you can find the video on Youtube at https://www.youtube.com/watch?v=FnR2urPDvoE&feature=youtu.be
You may want to also learn about sweatshirts, some come with hoods.
Fashion Products Fashion Products G-L Fashion Products H
---
Return to the Influence Fashion home page.

Copyright 1999-2017
Apparel Search Company. All Rights Reserved.