Hunting Clothing
If you are thinking that hunting clothing is all about camo, you would be mistaken. Sure, camouflage is a hugely important aspect, but this is only part of the story. Clothing, footwear, and accessories that are used for tracking animals need to be comfortable, sturdy, weather appropriate, quiet, etc. Most hunting apparel employs camouflage techniques to blend into the surroundings. The goal being to make the hunter barely detectable. It is important to keep in mind that animals often use more than sight to stay a step ahead of predators. Therefore, good hunting clothes should be quite and odor free as possible as well.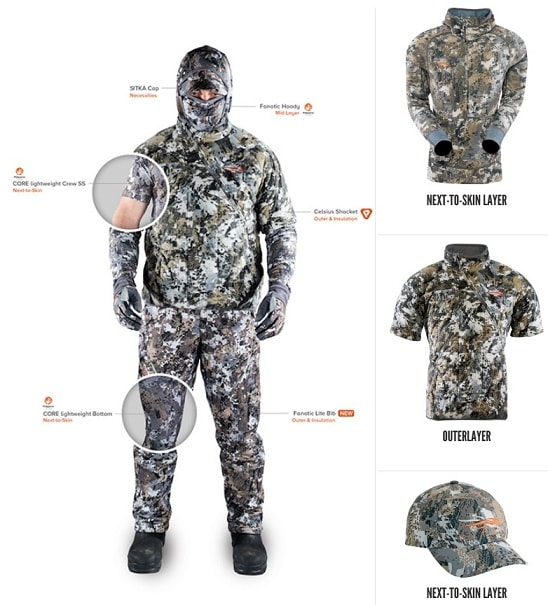 The type of garment fabric and construction greatly depends on the type of hunt, location, and weather conditions. Obviously warm clothing is needed in cold climates and cool breathable clothing is good in hot weather. There are many fabric choices that need to be considered when planning a hunters wardrobe. Modern high performance fabrics have greatly increase the sportsmen's options when it comes to appropriate quality clothing.
If we were to wrap this concept into a one sentence summary, Apparel Search suggests that hunters consider light weight, quiet fabrics with wicking properties that provide camouflage. This is a relatively appropriate concept for hunting in any climate. Let's keep in mind that when we say light weight fabric, we do not mean that heat should be completely sacrificed. We mean that the clothing should be appropriate for the adventure, but as "light weight as possible while still maintaining appropriate warmth required". The theory being that if you are on the move you want to be packing as little weight as possible. This includes the clothing that you are wearing and hauling.
When selecting clothing for hunting, you may want to consider how well the garment retains warmth and handles wet conditions. These are important factors to consider with your insulation choice.
Down is one of nature's best insulators. The plumules from ducks and geese provide the most warmth for the least weight and bulk. However, it is important to NOT get down wet. The main benefits of down are the fact that it is ultralight, ultrawarm and ultrapackable. On the other hand, it won't insulate when damp and dries slowly. If you anticipate rain, snow, humidity or being active enough to break a sweat, you should look at water-resistant down, synthetics or down/synthetic hybrids. One way to determine the quality of down is to look at its fill power. Ranging from about 450 to 900, fill power is the volume in cubic inches that one ounce of the down fills up; higher quality down lofts to a higher volume, so a higher spec number indicates warmer down.
Wool is an amazing fiber that has been used by hunters around the world. Wool is a natural fiber that retains heat even when wet. That is a very valuable feature to say the least.
Synthetic fibers have grown in popularity with hunters over the years. With advancements in textile innovation, synthetic fibers are created to take on the best properties of natural fibers. High performance fibers can potentially be better than the best that natural fibers have to offer. It is important to research the various fibers that you can see listed on the garment packaging and care & content labels.
Camouflage is the use of any combination of materials, coloration, or illumination for concealment, either by making animals or objects hard to see (crypsis), or by disguising them as something else (mimesis). A third approach, motion dazzle, confuses the observer with a conspicuous pattern, making the object visible but momentarily harder to locate. The majority of camouflage methods aim for crypsis, often through a general resemblance to the background, high contrast disruptive coloration, eliminating shadow, and countershading. In the open ocean, where there is no background, the principal methods of camouflage are transparency, silvering, and countershading, while the ability to produce light is among other things used for counter-illumination on the undersides of cephalopods such as squid. Although it may occur in the future, hunters are not yet as adaptable as chameleons and octopuses. As far as we know, hunting clothing cannot yet actively change their patterns & colors like the amazing octopus.
Another issue to think about when selecting the best hunting apparel would be the pack ability of the clothes. It is important to know how small it will pack.

Types of hunting clothes includes: hunting shirts, hunting hoodies, hunting jackets & vests, camo hunting pants, hunting bibs, hunting shorts, hunting base layers, camo hunting hats, shooting & hunting gloves, hunting facemasks, camo hunting glasses, hunting socks, tactical apparel, hiking boots, and more. Don't forget categories such as waterfowl clothing, upland clothing, cold-weather clothing, hunting waders, and specialty clothes such scent control clothes and camo rainwear (rain coats, rain boots).
No matter where you're heading or the current season, be prepared with hunting apparel that is designed for superior durability and functionality. Find hunting gear and clothing in concealing camouflage or safety blaze orange (or a combination of the two).
Learn more about hiking boots and archery clothing.
Please note that we are NOT suggesting that you hunt. We are only informing you regarding clothing, just in case you already participate in the activity. In addition to buying clothes to helps support the apparel industry, please be certain to hunt ethically and waste nothing.
You can find hunting clothing stores in the clothing store section. Below are a few more places that we recommend you research if you are planning to purchase hunting clothing.
Cabela's: Shop Cabela's for the largest variety of men's hunting apparel and clothing accessories. Buy the latest lightweight camo for use in warmer weather, including shirts, pants and coveralls. For late-season hunts, be sure to check out our cold-weather camo as well as our base layers to ensure you stay warm out in the field. Hunt confidently with top-rated scent-control apparel that absorbs odors and allows you to get in close. Find quality shooting clothing for your practice days at the range. Cabela's has the best quality hunting apparel for whatever type of hunting drives you.
You may also want to learn about the following:
KUIU Ultralight Hunting: their layering system is designed to keep you comfortable and dry on any hunt, while reducing weight at every opportunity. Heard about this hunting brand on the Joe Rogan pod cast (yes, Apparel Search listens).
Sitka Gear System: Sitting in a tree stand in the middle of the rut can be a time of shivering teeth, numb expenditures, and mental battles of should I stay or should I go. Every day their product team strives to answer the question of how do they extend the hunt by allowing the hunter to stay in the stand longer keeping him comfortable and concealed in the best way possible. On the comfort side, they have engineered all materials in the collection for the quietest and most protective whitetail system ever created. From the cotton ball quiet Celsius series to the specific body mapped thermal needs found in the new Shacket and Fanatic Lite, the whitetail hunter will immediately see the bar being raised. On the concealment side, they unveiled GORE® OPTIFADE® Concealment Elevated II pattern. Building on the science, they have optimized the current pattern which will lengthen the engagement range and extend seasonal effectiveness. The new whitetail line will redefine the way people hunt whitetail deer.
Scentlok Technologies: It's time to set the record straight. A recent independent test at Rutgers University confirmed what a million Scent-Lok hunters already knew. Scent-Lok Carbon Alloy™ technology stands alone as one of the only solution in scent-control clothing. These tests showed that Scent-Lok blocked 99.8% of the odor compounds and can hold up to 24-times the odor of the other guys. ScentLok Technologies, headquartered in Muskegon, MI, USA, is a leading worldwide designer, marketer and distributor of performance, hunting and casual odor-controlling apparel, footwear and equipment. Founded in 1992 on scientific principles, ScentLok is the only company with access to all scent-controlling technologies including their patented activated carbon technology, which is consistently proven to outperform other technologies tested. ScentLok is a pioneer in the hunting industry who many credit with creating a market based on the elimination of odors to get closer to big game. ScentLok is a subsidiary of A.L.S. Enterprises, which also markets and distributes Hard Core Hunting Clothing and Bone Collector Hunting Clothing.
Under Armour Hunting Clothing: Under Armour's selection of hunting clothing provides the concealment and versatility that hunters crave as they chase after the trophy of a lifetime. Under Armour's camouflage ups the ante on modern hunting apparel by withstanding the elements, blocking scent and damaging UV rays, retaining warmth and pulling moisture away from your skin. Invest in quality hunting apparel that hunts as hard as you do.

Fashion Products Fashion Products G-L Fashion Products H
---
Return to the Influence Fashion home page.

Copyright 1999-2017
Apparel Search Company. All Rights Reserved.