Raincoats - trendy or functional.
Is rainwear designed to keep you dry or stylish? Hopefully, they are designed to be fashionable as well as functional.
A raincoat or slicker is a waterproof or water-resistant coat worn to protect the body from rain. The term rain jacket is sometimes used to refer to raincoats that are waist length. A rain jacket may be combined with a pair of rain pants to make a rain suit.
The first modern raincoat was invented by Charles Macintosh in 1823.
Modern raincoats are often constructed of breathable, waterproof fabrics such as Gore-Tex or Tyvek and coated nylons. These fabrics allow some air to pass through, allowing the garment to 'breathe' so that sweat vapour can escape. The amount of pouring rain a raincoat can handle is sometimes measured in the unit millimeters, water gauge.
Important brands and styles of raincoat include the following:
Burberry – fashion brand known for high quality rainwear among other things.
London Fog - Londontown Clothing Company was founded by Israel Myers in 1923. In 1938, London Fog makes waterproof coats for the U.S. navy during WWII. In 1950, London Fog Partners with DuPont to create a water repellant durable material. London Fog introduces coats for women, develops the first removable liner and patents a process to strengthen buttons and an inner barrier for extra weather protection. The rest was history. Learn more about London Fog here on Apparel Search.
66°NORTH - 66°NORTH is an Icelandic clothing manufacturer, specializing in outdoor clothing. 66°NORTH was founded in 1926 by Hans Kristjánsson with the purpose of making protective clothing for Icelandic fishermen and workers braving the North Atlantic elements. Hans Kristjansson lived in Suðureyri in Súgandafjörður in Westfjords of Iceland where weather conditions were very harsh and the right clothing was therefore a matter of life and death for Icelandic fishermen. Hans was passionate about creating garments that would hold up to the harsh conditions fishermen faced while trawling the seas of Iceland so he moved to Norway to learn how to tailor and sew fishermen's clothing. When Hans moved back to Suðureyri he founded Sjóklæðagerð Íslands (Fishermen's clothing factory of Iceland) now better known as 66°NORTH. 66°NORTH derives its name from the latitudinal line of the Arctic Circle which touches Súgandafjörður where the company was founded in 1926. The slogan of the brand is "Keeping Iceland warm since 1926".
Anorak (or parka) derived from traditional Inuit designs – A parka or anorak is a type of coat with a hood, often lined with fur or faux fur. The hood protects the face from freezing temperatures and wind. The Caribou Inuit invented this kind of garment, originally made from caribou or seal skin, for hunting and kayaking in the frigid Arctic. Some Inuit anoraks require regular coating with fish oil to retain their water resistance. The words anorak and parka have been used interchangeably, but they are somewhat different garments. Strictly speaking, an anorak is a waterproof, hooded, pull-over jacket without a front opening, and sometimes drawstrings at the waist and cuffs, and a parka is a knee-length cold-weather coat, typically stuffed with down or very warm synthetic fiber, and with a fur-lined hood.
Cagoule, also Cagoul, Kagoule, Kagool - A cagoule, cagoul, kagoule or kagool (from the French cagoule meaning balaklava) is the British English term for a lightweight (usually without lining), weatherproof raincoat or anorak with a hood, which often comes in knee-length. The American English equivalent is windbreaker; the Canadian English equivalent is windbreaker or K-Way; the Australian English equivalent is parka. In some versions, when rolled up, the hood or front pocket doubles as a bag into which the rest of the coat may be stowed.
Driza-Bone, Australian oiled cotton - Driza-Bone, originating from the phrase "dry as a bone", is a trade name for the company making full-length waterproof riding coats and apparel. The company was established in 1898 and is currently Australian owned and manufactures its products in Australia. The trademark of Driza-Bone was first registered in 1933. This style of coat originated in Australia as workwear for stockmen. The coats were developed to protect horse riders from the rain and feature straps that hold the coat to the rider's leg.
Gannex - Gannex is a waterproof fabric composed of an outer layer of nylon and an inner layer of wool with air between them and was invented in 1951 by Joseph Kagan, a British industrialist and the founder of Kagan Textiles, of Elland, which made raincoats. In addition they were worn by Arctic and Antarctic explorers, Himalayan climbers, the armed services, and police forces in Britain and Canada.
Inverness cape - The Inverness cape is a form of weatherproof outercoat. It is notable for being sleeveless, the arms emerging from armholes beneath a cape.
Mackintosh, rubberized cloth - The Mackintosh or raincoat (abbreviated as mac or mack) is a form of waterproof raincoat, first sold in 1824, made out of rubberized fabric. The Mackintosh is named after its Scottish inventor Charles Macintosh, though many writers add a letter k (this variant spelling "Mackintosh" is now standard). has been claimed that the fabric was invented by the surgeon James Syme but then copied and patented by Charles Macintosh; Symes' method of creating the solvent from coal tar was published in Thomson's 'Annals of Philosophy' in 1818. An exhaustive history of the invention of the mackintosh was published by Schurer in 1952. The essence of Macintosh's process was the sandwiching of an impermeable layer of a solution of rubber in naphtha (derived from tar) between two layers of fabric. Syme did not propose the sandwich idea. Merely to waterproof garments with rubber was an old idea, and was practised in pre-Columbian times by Aztecs, who impregnated fabric with latex. Later, French scientists made balloons gas-tight (and incidentally, impermeable) by impregnating fabric with rubber dissolved in turpentine; however, this solvent was not satisfactory for making wearing apparel. Although the Mackintosh style of coat has become generic, a genuine Mackintosh coat should be made from rubberized or rubber laminated material.
Oilskin - An oilskin is a waterproof garment, typically worn by sailors and by others in wet areas, such as fish-plant workers. Originally handmade of sailcloth waterproofed with a thin layer of tar, they were later (early 1930s) mass-produced of canvas duck coated with multiple applications of linseed oil (oilcloth) and often finished with layers of paint. While most modern oilskins are made of flexible PVC-coated synthetic fabric, advanced materials for extreme conditions such as yacht racing are increasingly employed.[citation needed] Also known as "foul weather gear", contemporary oilskins include such innovations as DWR-coated nylon on their low end and Gore-Tex and other proprietary waterproof membranes on the high.
Poncho - A poncho is an outer garment designed to keep the body warm. A rain poncho is made from a watertight material designed to keep the body dry from the rain. In its simplest form the poncho is essentially a single large sheet of fabric with an opening in the center for the head and often it has an extra piece of fabric serving as a hood. Rainproof ponchos normally are fitted with fasteners to close the sides once the poncho is draped over the body, with openings provided for the arms; many have hoods attached to ward off wind and rain.
Sou'wester - A Sou'wester, a traditional form of collapsible oilskin rain-hat, is longer in the back than the front to fully protect the neck fully. Sou'westers sometimes feature a gutter front-brim.
Trench coat, derived from traditional raincoat - A trench coat or trenchcoat is a raincoat made of waterproof heavy-duty cotton gabardine drill, or leather, or poplin. It generally has a removable insulated lining, raglan sleeves, and the classic versions come in various lengths ranging from just above the ankles (the longest) to above the knee (the shortest). It was originally an item of clothing for Army officers (developed prior to the war but adapted for use in the trenches of the First World War, hence its name) and shows this influence in its styling. Traditionally this garment is double-breasted with 10 front buttons, has wide lapels, a storm flap and pockets that button-close. The coat is belted at the waist with a self-belt, as well as having straps around the wrists that also buckle. The coat often has shoulder straps that button-close; those were a functional feature in a military context. The traditional color of a trench coat was khaki, although newer versions come in many colors.
Waxed jacket - A Waxed jacket is a type of hip-length raincoat made from waxed cotton cloth, iconic of British country life. Today it is commonly worn for outdoor rural pursuits such as hunting, shooting and fishing. It is a cotton jacket made water-resistant by a paraffin-based waxing, typically with a tartan lining and a corduroy or leather collar. The main drawback of a waxed fabric is its lack of breathability.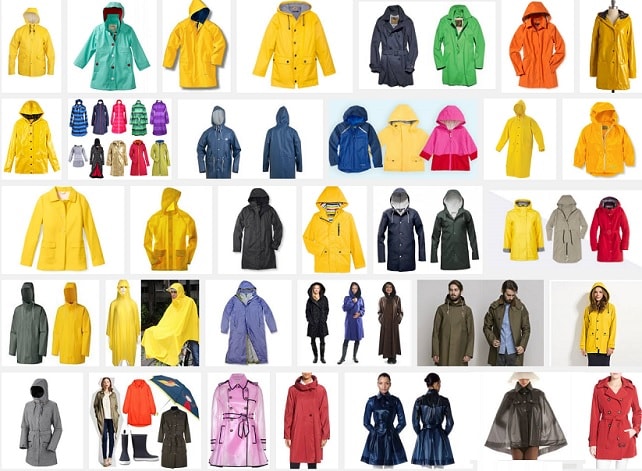 You may want to learn more about fabric breathability. Typically rainwear does not have good breathability.
It may be a good idea to also earn about rain boots and rain hats.
If you work in the fashion industry and design trendy rainwear, you may want to also research rainwear factories to help you produce your vision.
A raincoat can be considered as a type of outwear.
Learn about ponchos, coats & jackets.
As Apparel Search always say's, "Stay warm, stay dry, and most importantly stay fashionable".
Fashion Productsn Fashion Products M-R Fashion Products R
---
Return to the Influence Fashion home page.

Copyright 1999-2023 Apparel Search Company. All Rights Reserved.