Infinity Scarf
When the days start to get cooler, the scarves, mittens, and hats start coming out. Is it that time of year?
A scarf, plural scarves (or scarfs), is a piece of fabric worn around the neck. They can be worn for several reason including warmth, sun protection, religious reasons or simply as a fashion statement. They can be made in a variety of different materials such as wool, silk, cashmere, linen, cotton, etc.
What is an infinity scarf? Let's read on and learn.
Infinity is a concept describing something without any bound (endless). An infinity scarf has no end (endless) because it simply does not have a starting or ending point. An infinity scarf is designed as a loop or circle of fabric. A rectangle of fabric is sewn with no visible seams.
A loop is basically a circle, or a round path. If you have a long enough piece of fabric and you tie the two ends together, you get a "loop".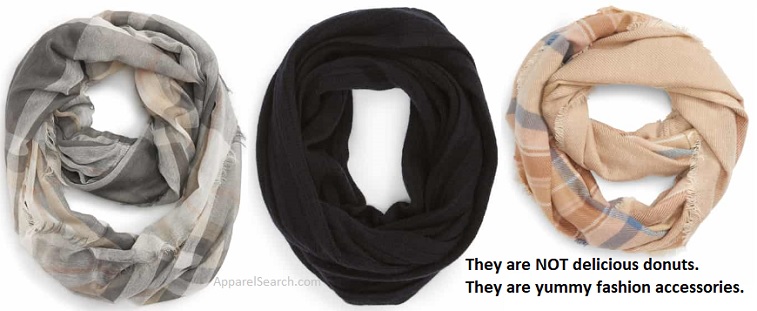 Every fashion wardrobe should contain at least one infinity scarf. It is a very versatile garment.
How to wear infinity scarves:
An infinity scarf is a large, closed loop of fabric that can be worn in a variety of trendy ways. It can be worn in a traditional loop, double loop, pull through, and hood to name a few techniques.
Single loop. Simply drape it around your neck and it will hang like a chain necklace.
Infinity scarves are often twisted into a double loop.
Knot the bottom. Loop it around your neck and tie a single knot near the bottom (you can decide how low or how high to place the knot).
Turtle neck appearance. You can actually make a small loop that remains tight around the neck (don't make it too tight). And then a secondary loop hangs down lower and loosely. You can loop the scarf around your neck twice and then pull down on one of the loops so that the top loop hugs your neck (again, don't let it hug too tight).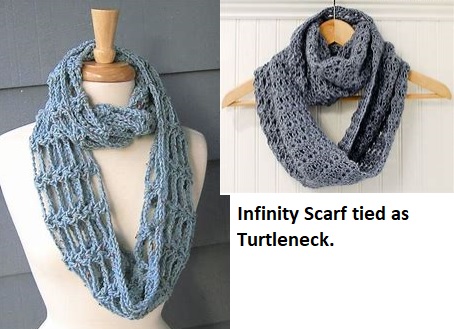 If you would like to create a bow appearance, you can hold both sides of the scarf together, fold the scarf in half around your neck and then tie it in a bow. You can then move it to the side of your neck or leave it centered.
These are only a few of the many infinity scarf tying options.
10 Ways to Wear an Infinity Scarf
A cute infinity scarf can benefit almost any outfit. You definitely should have at least one in your wardrobe.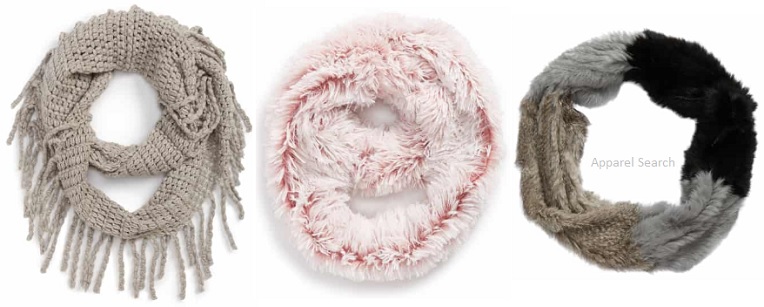 A standard infinity scarf is approximately 60 inches. However, as with most fashion their is not a 100% exact specification that is utilized by all designers. The length of your scarf may limit your wearing options.
Scarves are a common type of neckwear, but that does not mean they have to be common. You will find some very fashionable scarves in the market.
Looking for a fashionable neck warmer? Try out the infinity scarves.
Learn about weaving chenille scarves.
Please note that infinity scarves have absolutely nothing to do with infinity stones. The Infinity Stones are six immensely powerful objects tied to different aspects of the universe, created by the Cosmic Entities. Each of the stones possess unique capabilities that have been enhanced and altered by various alien civilizations for millennia. Only beings of immense power can directly wield the Stones, such as Celestials, or the Mad Titan Thanos. Fortunately, anyone can yield an infinity scarf.
Consumers of fashion can find trendy scarves and other fashion accessories at retailers such as Nordstrom, Neiman Marcus, Bloomingdales, etc.
Learn more about fashion accessories.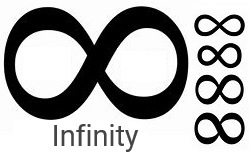 ML112118
Fashion Products Fashion Products G-L Fashion Products I
---
Return to the Influence Fashion home page.
Thank you for using the Apparel Search website.

Copyright 1999-2022
Apparel Search Company. All Rights Reserved.