It has come to our attention that Twitter is now OUT of Fashion.

As of April 2016 Apparel Search will no longer be utilizing the Twitter service. We will use better services such as Facebook or Google+.

Basically, using a sucky service such as twitter is a waste of time.


---
By the way, we had an account with Twitter for several years. We had the handle of @apparel which we thought was a fantastically perfect address for Apparel Search. After many years of posting to @apparel, our account was hacked and was replaced by someone claiming to be Miley Cyrus (obviously it was not her). After "several" months trying to communicate with Twitter, they have

NOT

offered any assistance to help us get our account back. We even had to create a new Twitter account just so that we could communicate with their customer service. This is probably their plan to grow subscribers. They offer horrible service, take away your account, and force you to create an additional account to ask for help.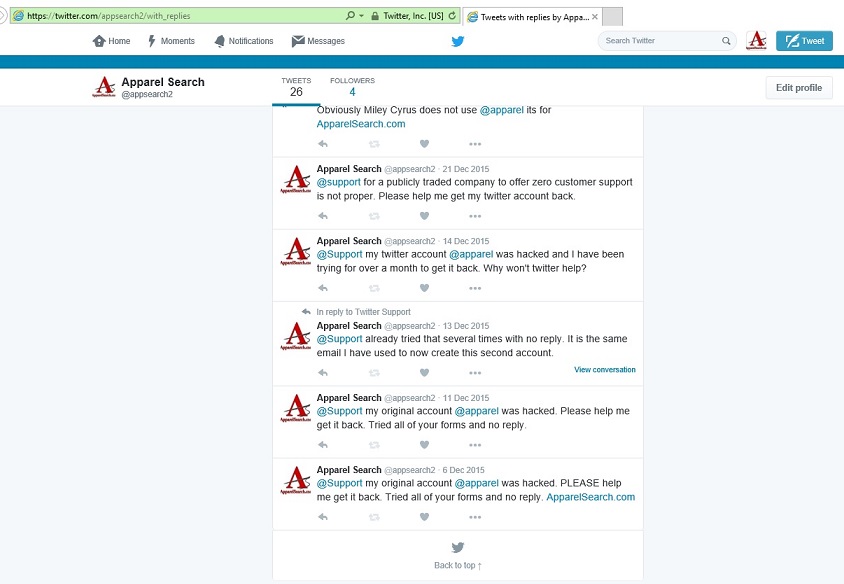 Now we 100% think that

Twitter Sucks

.

Apparel Search on Facebook
Fashion Industry Network on Facebook
Apparel Search on Tumblr
Apparel Search on Youtube
Apparel Search on Delicious

Don't forget to hang out at the most fashionable and social network in the universe. We would love to chat with you about fashion at the Fashion Industry Network.


Search for additional information about Apparel, Fashion or Clothing.
Fashion Feeds by Apparel Search
Did you know that you can use a tiny url when writing messages on twitter?