Paul Magalad has real charisma and a knack for staying involved with his audience. He serves pre-show cocktails, jokes with front row press and constantly reappears from backstage, supplying impromptu narrative to the lineup. No wonder he's chosen to focus business on a strictly made-to-measure service. It's this personal approach that makes his pieces so beautiful. Each dress in his spring show seemed tailor-made, floating gently into signature bias-cut folds along the hip with raw seams coiling upwards, inevitably ending high at the neck in a cluster of studded boutonni
res, created in dressmaker tradition.

A renegade artist and loyalist Chinatown supporter, Paul chose once again to hire the Chinatown Court Princesses and host his show in a gallery on Bamboo Lane. Last season's brave editors were treated to his lantern-lit outdoor parade on trendy Chung Ling Row and a dynamic presentation of urban semi-couture. Risking that many would not make the trek beyond The Standard, he nevertheless cast his pearls one home turf - one-off deconstructed spring dresses, flirty separates and body-conscious sportswear.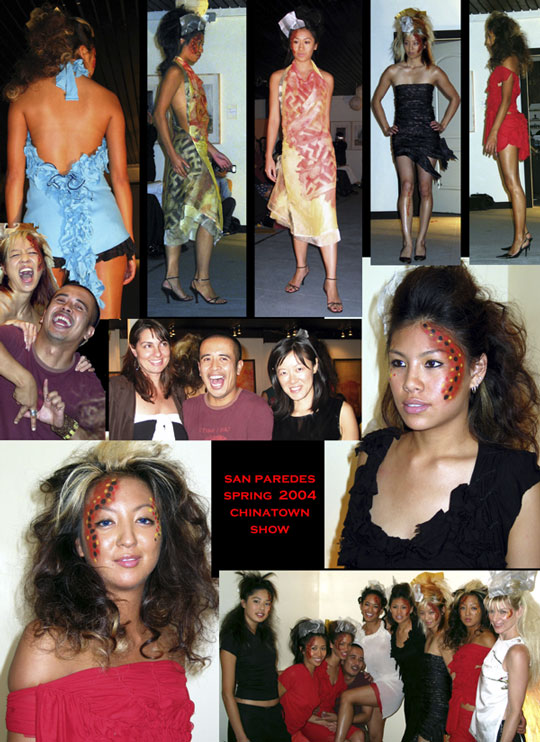 The San Paredes style is sophisticated and unmistakable: bias-cut pinstripes, rouched shoulder detailing, ruffles, back plumage and handkerchief hems juxtaposed against the occasional wrapfront apron pant or other subtle reference to Asian workwear.

This season a promising collaboration with textile artists Cindy Suriyani yielded a new palette of printed fabrics and yet one more opportunity for Paul to support and collaborate with his adopted Chinatown community.