We hope that you enjoy reading about fashion events. Below you will access to some of our past articles:
Supermodel Jaimie Hilfiger, niece of legendary fashion designer Tommy Hilfiger, was spotted at his show during Fashion Week in New York City earlier this week along with Uma Thurman, Abigail Breslin ("Little Miss Sunshine"), Shenae Grimes ("90210"), Chelsea Tyler, supermodel Petra Nemcova and Krysten Ritter ("She's Out of My League").
Jaimie Hilfiger sported a trademark dress from one of her favorite designers, Jovani Couture. This time, she opted for a sheath-style cocktail dress in a hue of glossy, shimmery black that caught the light brilliantly and added a subtle sparkle to the room. She also topped off her look with Christian Louboutin boots.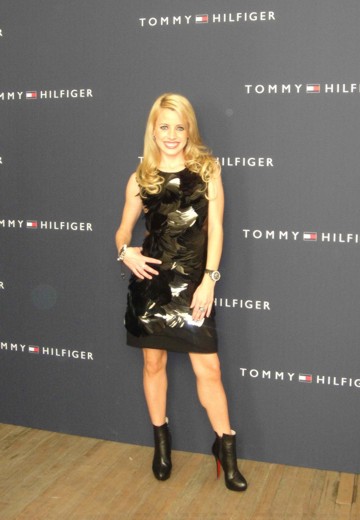 Meanwhile, onstage, Tommy Hilfiger brought the hunt club to Park Avenue in a very Town and Country way with his trademark preppy aesthetic. Other than the obvious military references, he hit on a few of the trends catching on during fashion week including high necklines that draw the eye upward, long gloves and tactile fabrics.
"There were country tweeds and a mix of suedes, leather and quilting. This season, he's also adding an uptown element through cashmere, fine details such as braiding and a sophisticated color palette rooted in plum, Dijon yellow, navy, dark green and burgundy," Jaimie commented. "It sort of looks like hunting, but it's not hunting foxes, it's hunting for fun."


If you have enjoyed this news article, you are welcome to further discuss this event or any other fashion events at the Fashion Industry Network. You can go to the Groups section on that site, and then you will find the fashion events group. That is a perfect place for discussing your favorite events.

If you wish to visit other sites that provide news about fashion events, you are welcome to try the Fashion Newspaper, Fashion News Articles, or Fashion Articles websites.

Due to the fact that you are reading this article, we assume that you enjoy fashion events. If that is correct, you will simply love "fashion week" events. Here are a few links to help you learn more:

Learn more about Fashion Events in the United States at our new fashion events guide.
Read previous fashion event news articles from our news archive: Fashion Event Articles 2011
If you would like to review additional categories other then event news, you can research previous fashion news reports from these links: 2011 Fashion Articles, 2010 Fashion Articles and 2009 Fashion Industry Articles.

Search for additional information about Apparel, Fashion or Clothing.
Here are a few fashion calendars that you may find helpful if you are would like to attend an event:
Fashion Industry Calendar
Fashion Calendar
If you work for a fashion designer, popular fashion brand, or fashion event organizer, you are welcome to list your events on the calendar.
You may want to read fashion blogs to learn more about fashion events. Fashion bloggers typically do a good job with reporting on fashion events. If you happen to fancy yourself a Fashion Writers, you are welcome to test out the fashion blog at FIN.
Learn more about fashion events on Google+.