In this section you will find blog posts about Bohemian fashion and style.
In modern usage, the term "Bohemian" is applied to people who live unconventional, usually artistic, lives. The adherents of the "Bloomsbury Group", which formed around the Stephen sisters, Vanessa Bell and Virginia Woolf in the early 20th century, are among the best-known examples. The original "Bohemians" were travellers or refugees from central Europe (hence, the French bohémien, for "gypsy"). It also refers to the fashion style of "boho-chic" in the early years of the 21st century. Clothing that is sexy and delightful precisely because the wearer does not need to pay too much attention to fashion. In the early 21st century, "boho-chic" was associated initially with supermodel Kate Moss and then, as a highly popular style in 2004-5, with actress Sienna Miller. In America similar styles were sometimes referred to as "bobo-" or "ashcan chic", or "luxe grunge", their leading proponents including actresses Mary-Kate Olsen and Zooey Deschanel.
We enjoy brands that are a free spirit and favoured for its understated, effortless, bohemian style. Learn more about the Boho-chic trend that comes and goes.
You can search for additional bohemian fashion blog posts by using our search engine.
Bohemian Fashion Vibes for 2015
Kourtney Kardashian in Tangerine NYC
You can shop at Amazon for bohemian fashion and much more.
From gauzy dresses to peasant tops, summer & winter's prettiest pieces embody a free-spirited vibe.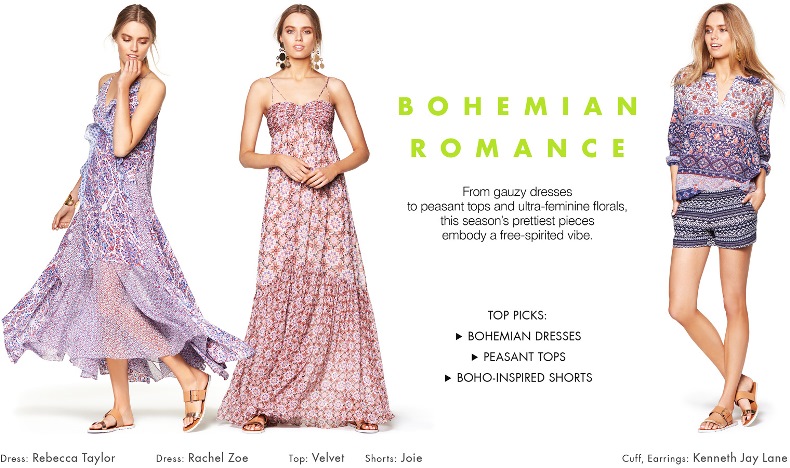 Thank you for using the Apparel Search website.