This fashion blog section provides easy access to a few examples of our news regarding celebrities and the style that they portray. Our posts include information about celeb spottings and the clothing, jewelry, shoes, and fashion accessories that they have been wearing.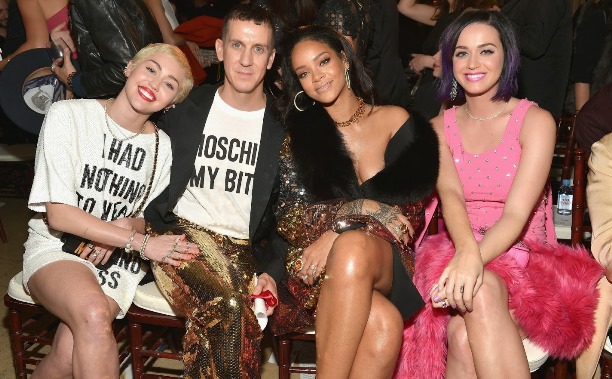 In this area of our guide, the posts typically are relevant to blog posts that contain or mention two or more famous people.
Below you will see a partial list of fashion celebrity blog posts. You can search for additional blog posts about celebrities by using our search engine. We hope that you enjoy the news listed below.
Samira Wiley and Laura Prepon at Orange Con Fan Event
Celebrities Enjoy Giuseppe Zanotti Shoe Designs
Celebrities Wearing Rock Tees March 2015
Jeremy Scott Womenswear Designer of the Year
Rihanna and Sofia Vergara Recently in PilyQ
Kerris Dorsey wore Cynthia Rowley in LA
Male Celebrities Choose Junk Food for the Holiday Season
Maria Bello and Clare Munn in LA
LeAnn Rimes and Alessandra Ambrosio Wearing Junk Food
Look Like Today's Trendiest Celebs
Heidi Klum and Katie Holmes wearing STRÖM Brand
Tacori Jewelry Celebrity Party
Celebrity Fashion Spotting September 2014
Gwyneth Paltrow, January Jones, Elle Fanning in STRÖM Brand
Celebrity Style Highlights August 2014
Ashton Kutcher and Mila Kunis Spotted
Hollywood's Little Black Dress
Honor Warren and Mom Stylish as Can Be
Ashley Greene and Diane Kruger in Pheel Pants
Celebrity Style Highlights May 2014
Sarah Jessica Parker, Malin Akerman & Charlize Theron
Fashionable Finds on the Celebs May 2014
Trendy Celebs Spotted This Week
Jessica Alba Wearing NIC+ZOE Pants with Cash Warren
Fashion Celeb Spottings April 2014
Kaley Cuoco and Nina Dobrev Rocking Sunglasses
January Jones and Malin Akerman in STRÖM Brand
Malin Akerman and January Jones
Alessandra Ambrosio and Martina McBride
Trendy Ladies in Fitness Apparel March 2014
Kendall Jenner vs. Naya Rivera
Evan Peters & Emma Roberts Loaded with Style
Emma Watson and Idina Menzel in Vera Wang at Academy Awards
Jessica Lowndes and Kaitlyn Dever at Oscars Viewing Party
Moschino Makes Statement for Autumn/winter 2014-2015
Alessandra Ambrosio and Isla Fisher Fashionable February
Celebrity Fashion Spotting February 2014
Celebrities in Junk Food This January
Charlize Theron & Olivia Wilde Running Errands in LA
Danity Kane Spotted at the 2013 American Music Awards
Karina Smirnoff vs. Aubrey O'Day: Who Wore it Best
Fashion at 70th Venice International Film Festival
Jensen Ackles, Helen Mirren, Selma Blair, Olivia Wilde Celebrity Spotting
Bella Thorne & Kendal Jenner in Signorelli Sweater
Jessica Alba & Sarah Jessica Parker in Level 99
Mark Wahlberg in Junk Food with Denzel Washington
In addition to the above celebrity fashion blog posts you can also use the search engine on our blog to locate additional news. This page only contains "some" of our posts as an example.