The Zac Posen brand presents handbags, shoes, eyewear, and fashion.
Zachary E. "Zac" Posen is an American fashion designer. In 2000, Posen received a prominent career opportunity after a dress he made for Naomi Campbell changed hands several times among several fashion insiders.
Upon returning to New York in 2001, Posen set up an atelier in his parents' living room, while they gave him a USD$15 allowance. In October of the same year, he was chosen to present a capsule collection as part of GenArt's Fresh Faces in Fashion New York 2001. He received a grant for $20,000. After his first runway show in 2001, Posen was courted by fashion titans Yves Carcelle, president of LVMH Fashion Group; Sidney Toledano, CEO and director of Christian Dior S.A.; and Domenico De Sole, president and CEO of Gucci Group NV. Following the success of this presentation, Posen established his design studio.
In February 2002, he debuted his ready-to-wear collection in New York City. The presentation captured the attention of key fashion editors and retailers, signaling the presence of a new force within international fashion. Following the success of this presentation, Posen quickly established his design studio in Tribeca. Since this date, Zac Posen has remained committed to his vision of artfully crafted, innovative ready-to-wear for women worldwide. His strong, feminine aesthetic has become a favorite of style leaders.
In 2004, high-end urban fashion brand Sean John made an investment deal with Posen. At the 2012 Academy Awards, Glenn Close wore a Posen gown on the red carpet, as did both Reese Witherspoon and Naomi Watts at the 2013 Golden Globe Awards.
Learn more about the Zac Posen Women's Fashion Brand at the Zac Posen clothing website.
In 2013 Zac Posen created his second line ZAC Zac Posen sold by the biggest retailers of New York such as Neiman Marcus and Saks Fifth Avenue. In December 2016, Zac Posen launched his shoe collection with the Prefall 2017 collection.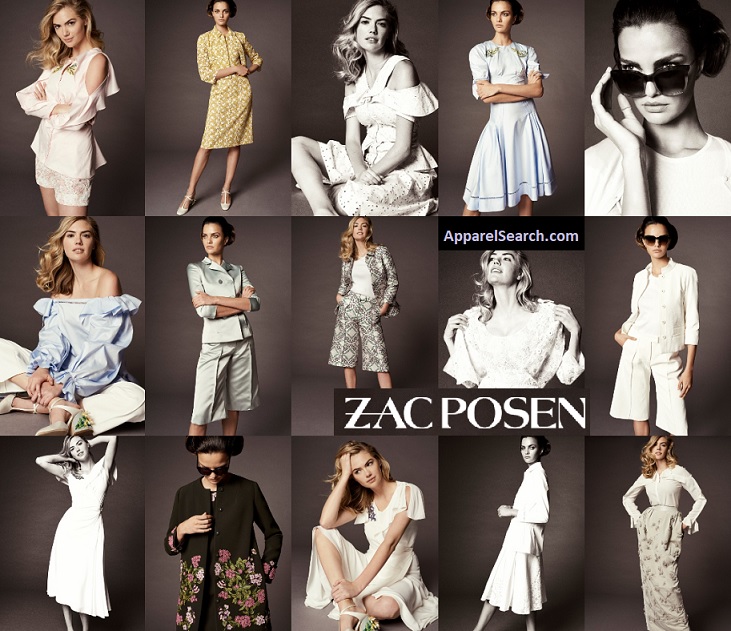 Zac Posen launched his eponymous collection in 2001, with a vision for modern American glamour that married couture technique with striking innovation. Raised in New York, Zac began his design training early. He attended London's Central Saint Martins University in the womenswear degree program. In 2004, he was awarded one of fashion's most prestigious honors, Swarovski's The Perry Ellis Award for Women's wear by the CFDA. In 2015, Zac Posen was also awarded Designer of the Year by Women's Wear Daily and Variety Magazine.
Thank you for using the Apparel Search website.