Welcome to the worlds greatest guide to Women's Blue Suede Shoes.
Suede is a type of leather with a napped finish, commonly used for footwear and fashion. Suede is leather with the flesh side rubbed to make a velvety nap. Suede is made from the underside of the animal skin, which is softer and more pliable than, though not as durable as, the outer skin layer.
A shoe is an item of footwear intended to protect and comfort the human foot while the wearer is doing various activities.
Alternatives to real suede include fabrics that are brushed to give a suede appearance. fabrics are often manufactured with a brushed or napped finish to resemble suede leather. These products often provide a similar look and feel to suede, but have advantages such as increased liquid or stain resistance, and may appeal to consumers who prefer a non-animal product.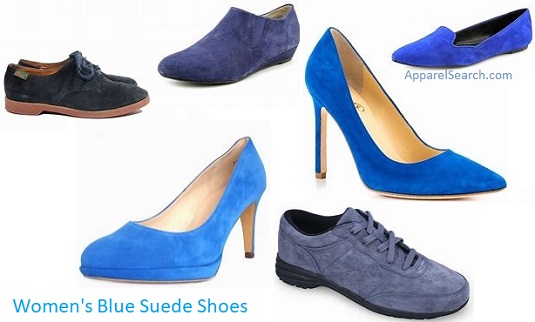 What is nubuck? Nubuck is similar to suede, but is created from the outer side of a hide, giving it more strength and thickness and a fine grain. It is generally more expensive than suede, and must be colored or dyed heavily to cover up the sanding and stamping process. Nubuck is top-grain cattle leather that has been sanded or buffed on the grain side, or outside, to give a slight nap of short protein fibers, producing a velvet-like surface.
About blue suede shoes and rock & roll. "Blue Suede Shoes" is a rock-and-roll standard written and first recorded by Carl Perkins in 1955. It is considered one of the first rockabilly (rock-and-roll) records, incorporating elements of blues, country and pop music of the time. Perkins' original version of the song was on the Cashbox Best Selling Singles list for 16 weeks and spent two weeks in the number two position. Elvis Presley performed his version of the song three different times on national television. It was also recorded by Buddy Holly and Eddie Cochran, among many others.
You can also view additional women's blue shoes.
Check out more women's suede shoe choices.

Thank you for using the Apparel Search website.