Paris, France Fashion Shopping Streets & Destinations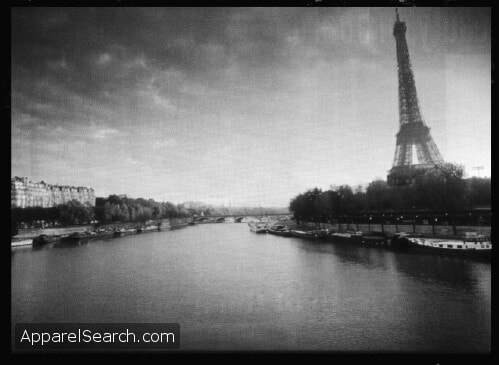 Boulevard Haussmann is one of the wide tree-lined boulevards created in Paris during the Second French Empire by Baron Haussmann, with enthusiastic support from Napoleon III. The Boulevard Haussmann is mostly lined with apartment blocks, whose regulated cornice height gives a pleasing eye line to the Boulevard. The department stores Galeries Lafayette and Au Printemps are sited on this street. At 158 there is the Musée Jacquemart-André. Marks & Spencer, the British department store chain, opened a store on Boulevard Haussmann in 1975 when it opened its first overseas stores. The part of the Boulevard Haussmann, located between Chaussée d'Antin et Havre Caumartin metro stations in the 9th area, behind the Paris Opera (Garnier, not the Bastille Opera), is where the famous Printemps and Galeries Lafayettes department stores are standing. Cosmetics, fashion, home accessories, each floor has a thematic. You can also fina a lot of other shops around, such as C&A, H&M, Zara, Benetton, Uniqlo and many more. Paris department stores are famous for being worlds unto themselves. Galeries Lafayette and Printemps department stores dominate Boulevard Haussmann with real Belle Epoque grandeur, concentrating top designer collections for men and women, gourmet food shopping, home design, jewelry, and even hardware into a labyrinth of consumer delights.
The rue du Faubourg Saint-Honoré or rue Saint-Honoré is a world famous street in Paris, France. Although relatively narrow and nondescript (especially in comparison to the nearby avenue des Champs-Élysées), it is cited as being one of the most fashionable streets in the world, thanks to the presence of virtually every major global fashion house. Like the nearby avenue Montaigne, the street has been consistently dedicated, throughout its length, to high-fashion stores and other exclusive establishments.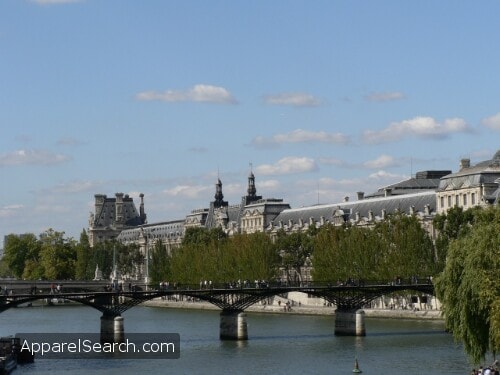 The rue Saint-Honoré, of which the rue du Faubourg Saint-Honoré is now an extension, began as a road extending west from the northern edge of the Louvre property.
The Faubourg Saint-Honoré district is the pulse of Paris design and fashion. Part of the Louvre-Tuileries neighborhood and just a few blocks from the Opera Garnier and the Paris department stores block on Boulevard Haussmann, the Saint-Honoré fashion district is occupied by classic designers like Versace, Hermes, and Yves Saint Laurent, but also houses resolutely trendy concept shops such as Colette.
A few establishments in the rue du Faubourg Saint-Honoré
No. 14: The atelier and boutique of couturier Dominique Sirop, who established his enterprise in 1996 and at this location from 2000.

No. 19: Perfumier Jean-François Houbigant established his shop, "À la Corbeille de Fleurs" ("at the sign of the flower basket"), in 1775.

No. 22: The flagship store of Lanvin, initially established by Jeanne Lanvin in 1889 and here as a couture establishment after several prior locations.

No. 24: The flagship store of Hermès, a company of finely crafted goods, established in 1837 and located at the present address since 1880.

No. 29: The institute and headquarters of Lancôme, the cosmetics brand, established in 1935.
Les Halles and Rue de Rivoli is a place in Paris to find major chains and trendy boutiques. The main streets in this area include: Rue de Rivoli, Rue Pierre-Lescot, Rue Etienne Marcel, Rue de Turbigo. Once the locus of "the guts of Paris", an enormous outdoor food market, the area around Châtelet-les Halles was transformed into a major shopping area in the 20th century. At metro Les Halles is a monstrous underground mall, "Le Forum des Halles", where global chain stores reign. Rue de Rivoli is much the same. In the Rue Montorgueil area, quirky contemporary boutiques abound, including Barbara Bui and several young cutting-edge designers.
Saint-Germain-des-Prés The main streets of this shopping area include Blvd. St.-Germain, Rue St. André-des-Arts, and Rue de Sèvres. Once synonymous with the famous intellectuals who frequented the local cafés, St.-Germain-des-Prés has acquired several levels of chic and is currently a preferred spot for shoppers looking for chic clothing. BCBG, Sonia Rykiel and Paco Rabanne have boutiques here, and the famous department store Le Bon Marché can be found as well.
Avenue Montaigne and Avenue des Champs-Elysées is the ideal spot in Paris, France for designer shopping and trendy chain stores. Avenue Montaigne and Avenue des Champs-Elysées form one of the city's hottest fashion junctures. Ave. Many would say that Montaigne is fast outstripping Saint Honoré in notoriety, with legendary designers like Chanel and Dior lining the street. The Champs-Elysées features luxury names including Louis Vuitton while also being a major spot for shopping in trendy global chains like Zara.
Le Marais ("The Marsh") is a historic district in Paris, France. Long the aristocratic district of Paris, it hosts many outstanding buildings of historic and architectural importance. From swampy to swanky, the Marais has a fascinating history. The quartier has remade itself many times, and today retains several identities: the city's epicenter of cool with hip boutiques, designer hotels, and art galleries galore. The historic Marais quarter is prime for shoppers with an eye for unique and finely-crafted items. You can shop antiques or fine-arts shopping on the Place des Vosges, jewelry shopping at boutiques like Satellite on Rue des Francs-Bourgeois, or explore boutiques featuring up-and-coming designers on Rue des Rosiers.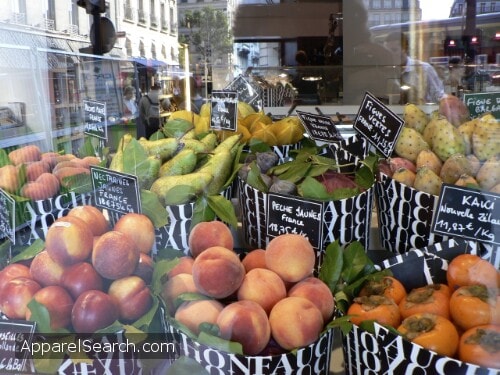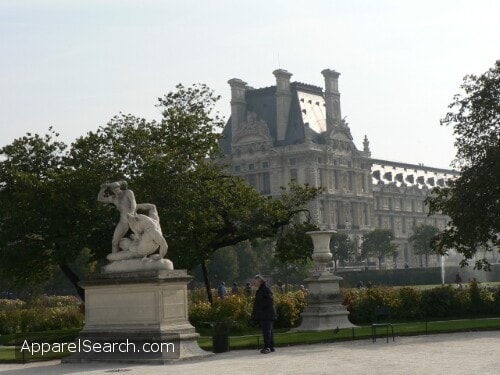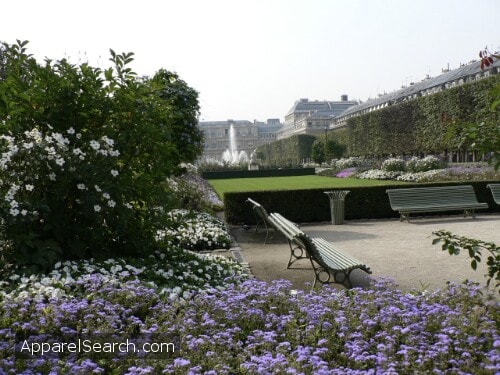 Have you shopped the streets of Paris for clothes, shoes, or stylish accessories? If you have already visited or plan to visit, share your thoughts or questions in the discussion area below.
comments powered by Disqus
Apparel Search Add Your Company Contact Us About Us Advertise News Letter Legal Help
Copyright 1999-2023 Apparel Search Company. All Rights Reserved.