College Sweatshirts - show your school spirit.
When discussing college sweatshirts, most people would understand that we are talking about sweatshirts that have college or university names or logos. The garments are generally printed, embroidered, or embellished in some manner to display school spirit.
Before we start discussing this type of shirt, let's first figure out the difference between a school, college or university?
In the United States, the word "school" describes any place where people learn. A college, university, institute, and secondary program are all technically schools. A four-year college or university offers a bachelor's degree. Programs that offer these degrees are called "undergraduate" schools. A "university" is a group of schools for studies after secondary school. At least one of these schools is a college where students receive a bachelor's degree. A student can earn a bachelor's degree at either a college or a university. If the student is super clever, after getting an undergraduate degree they can move on to a gain a masters in fashion if they so choose.
Now that we know that colleges and universities are very similar, it's time for us to point out that we really don't care that they are different. Truth be told, we couldn't care less what type of school someone has attended or plans to attend. On this page we will refer to college sweatshirts, university sweatshirts, and other school sweatshirts as if all of these various schools are the exact same. The style of sweatshirts are basically the same regardless of the type of school under discussion. Although not all sweatshirts are created equal, it is fair to say that the various styles that are in existence would be equally popular at high school, college, or at a university. The primary distinguishing difference would be the actual printing or other sorts of embellishment on the garment.
Most university sweatshirts are worn to show off the name of the school that a student has attended. They are equally important to proud parents that wish to make sure the world know that their child has attended school. For example, we at Apparel Search often wear or Yale & Harvard sweatshirts to show how proud we are of our children.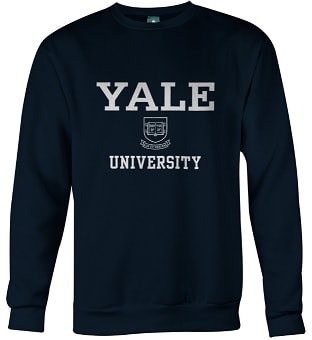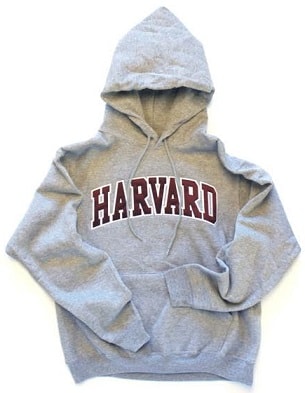 In regard to most school sweatshirts, the most important aspect is the words or logos that decorate the front, back, hood, or sleeves of the garment. The colors are generally based on the colors that represent the school. Similar to the sports team jerseys, the color of the students sweatshirts typically (but not always) represents the school colors.
These types of sweatshirts are abundant on school campuses around the country. Sweatshirts, jeans, and sneakers are pretty much in every young adults wardrobe on campus.
Are sorority sweatshirts and fraternity sweatshirts considered college sweatshirts?
Although we would like to say yes, we think that the technical answer is no. We have decided that college sweatshirts are sweatshirts that have college or university names or logo decorated on the garment. Greek letters represent an important college experience, but do not necessarily represent the school. However, if the sweatshirt has both the Greek letters and the school name or logo, then it would technically qualify.
We understand the fact that sorority shirts and fraternity clothing is a big part of college life for many students. Wearing the letters to represent your group of friends is an important aspect of college. Therefore, we suggest that if you are planning to be in a sorority at a university you work very hard so you can afford to have "both" a sorority sweatshirt and a college sweatshirt.
Styles of university sweatshirts:
Any style of sweatshirt can be turned into a university sweatshirt at a local print shop. It only takes a blank top and a textile printer (silk screen or digital printer). This type of clothing can be hooded, zip front, or pull overs. Generally they are made in jersey fabric and long sleeve. The tops can be 100% cotton, 100% Polyester, blends of the two fibers, or other types of textile fibers entirely. You name the sweatshirt type, they have been printed with a school name or log at some point.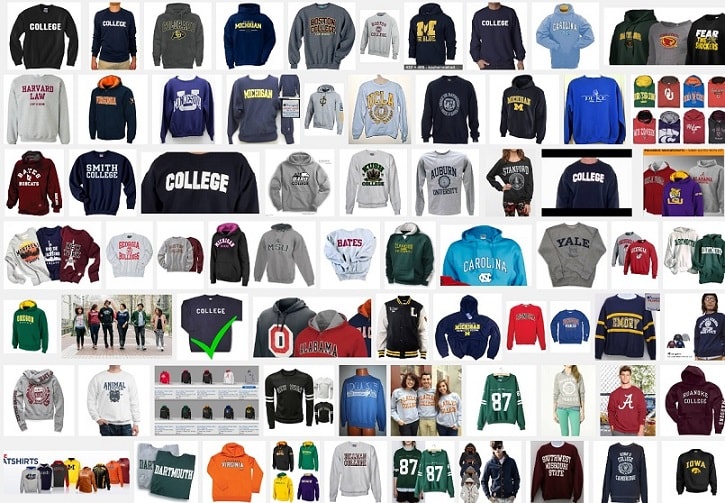 Learn about fashion schools which are a great place to learn about clothing and find very trendy university sweatshirts to show off your fashionable school spirit.
Fashion Products Fashion Products A-F Fashion Products C
---
If you are smart, you can become a fashion influencer.

Copyright 1999-2019 Apparel Search Company. All Rights Reserved.