Cycling Shirts
Stay in shape and look good while doing it. All sports require proper attire. Cycling is no different.
Cyclist often wear compression clothing as tops and bottoms so that the clothing stays close to the skin. This helps avoid extra drag. The drag is the wind resistance. Bikers wish to avoid as much drag a possible because it slows the rider and too much drag creates extra work on the legs, etc.
Wind resistance, a type of friction also known as drag, is the relative opposing force imparted on an object as it moves against still air. The wind resistance on an object depends on the square of its velocity, so as the object accelerates, its velocity and wind resistance increase.
Women that wear cycling shirts can help reduce some of the wind resistance. Imagine a loose fitting shirt flapping in the wind as you ride your bicycle. The wind hitting all of that fabric creates unnecessary resistance. Keeping the fabric tight to the skin helps avoid the extra drag.
Cycling Shirts or cycling jerseys - look for functional styling, back pockets, wicking fabric, a zippered neckline and reflective fabrics.
A cycling jersey is a specialized jersey for cycling. While the vast majority of cyclists worldwide wear conventional clothing while riding, a jersey offers certain advantages for the sport-oriented cyclist. A cycling jersey is cut long in the back to accommodate the bent-over position used in sport-oriented cycling. Any pockets on the jersey are placed on the back panel as front pockets would tend to spill. The zipper is often made very long so that the cyclist can open up the jersey to allow for ventilation. The cycling jersey is usually worn with a tight fit in order to reduce air resistance. Jerseys are made from a material designed to wick moisture from the skin, keeping the cyclist cooler and more comfortable.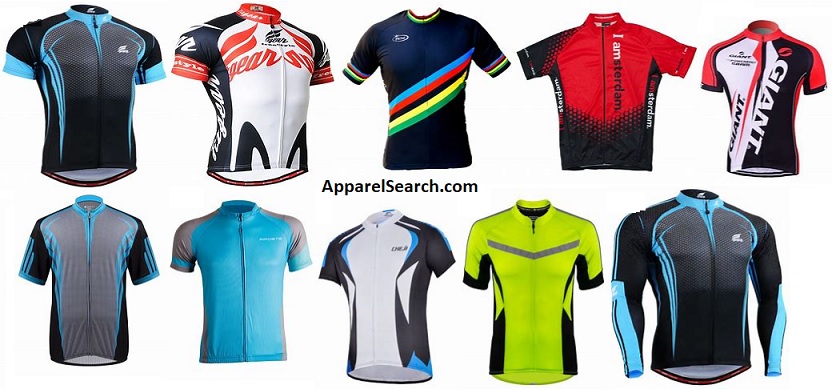 Wear reflective cycling tops for added visibility.
Depending on the type of riding that you are doing, you may want to consider shirts with some protective attributes. For example, padding. If you are planning on mountain biking on off-road terrain, you should further investigate cycling body armor & pads. Obviously, always wear a helmet.
Learn more about cycling clothing.
Cycling, also called bicycling or biking, is the use of bicycles for transport, recreation, exercise or sport. People engaged in cycling are referred to as "cyclists", "bikers", or less commonly, as "bicyclists". Apart from two-wheeled bicycles, "cycling" also includes the riding of unicycles, tricycles, quadracycles, recumbent and similar human-powered vehicles.
Jerseys symbolising race positions include the yellow jersey, or maillot jaune, from the Tour de France, the pink jersey, or maglia rosa, from the Giro d'Italia, and the red jersey, or la roja, from the Vuelta de Espana.
Learn about women's cycling shirts in our women's clothing guide section.
Fashion Products Fashion Products A-F Fashion Products C
Learn about performance fabrics in our fashion terms section.
---
Are you a fashion influencer?

Copyright 1999-2019 Apparel Search Company. All Rights Reserved.