Cycling Clothing
- bike shorts, cycling shirts, hats, etc.
What is cycling? Cycling, also called bicycling or biking, is the use of bicycles for transport, recreation, exercise or sport. People engaged in cycling are referred to as "cyclists", "bikers", or less commonly, as "bicyclists". Apart from two-wheeled bicycles, "cycling" also includes the riding of unicycles, tricycles, quadracycles, recumbent and similar human-powered vehicles.
What should be worn when cycling?
The short answer is that you should always wear a helmet as minimum.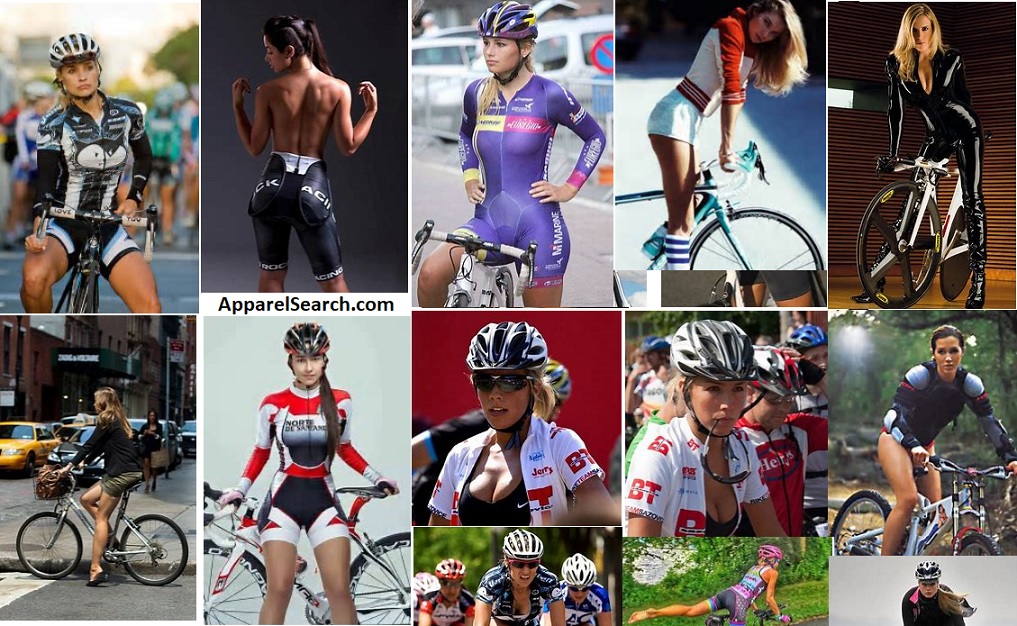 What people wear when riding a bicycle depends on the purpose of the ride, weather, location, etc. Bicycles provide numerous benefits in comparison with motor vehicles, including the sustained physical exercise involved in cycling, increased maneuverability, and access to roads, bike paths and rural trails. If a biker is going for a casual ride around the block, they may simply wear anything. They could even wear a tuxedo if they wish. However if a bike is going for a long journey, a race, or off-road, they may wish to dress more specifically for their occasion. Technically cycling can occur when wearing just about any type of clothing. In fact, you can dress in a big bird costume and still be able to ride a bicycle if you can move your legs to peddle and can see where you are going.
Cycling can be more efficient and comfortable with special shoes, gloves, and shorts. In wet weather, riding can be more tolerable with waterproof clothes, such as cape, jacket, trousers (pants) and overshoes and high-visibility clothing is advisable to reduce the risk from motor vehicle users.
The level of protection worn by individual riders varies greatly and is affected by speed, trail conditions (if mountain or tail riding), the weather, experience, fitness, desired style and numerous other factors, including personal choice. Protection becomes more important where these factors may be considered to increase the possibility or severity of a crash. Riders should always at minimum wear a helmet. Protective gear cannot provide immunity against injuries. For example, concussions can still occur despite the use of helmets, and spinal injuries can still occur with the use of spinal padding and neck braces.
Cyclist often wear compression clothing so that the clothing stays close to the skin. This helps avoid extra drag.
Cycling Shorts or bike shorts. Cycling shorts are typically skin-tight leg apparel made of nylon, Lycra, spandex, or a mixture of the three. These fabrics are known for their moisture-wicking and chafe-reduction qualities. From the road to the trail, log miles with performance-ready padded bike shorts or non padded shorts. Padded bike shorts are designed to keep you comfortable in the saddle. Select from a variety of materials and cuts for the fit that's right for you. Mountain Bike Cargo Shorts with secure pockets, baggy fit, and dry-fast wicking. Cycling shorts keep you comfortable during your ride and allow for easy mobility. They are offered in a variety of styles to accommodate different needs while bike riding. Bike shorts should rise higher in the back than the front and extend to the end of your thigh. This ensures coverage and comfort through your full range of movement during your ride.
Moisture wicking: Tight bike shorts wick moisture away from the skin to keep you more comfortable during cycling. Learn about wicking fabric.

Bib short: A bib short has built in straps to hold them up while you're cycling.

Gel shorts: Traditional bike shorts have padding in the inner thigh area. This is known as chamois padding. Padded cycling shorts are also sold with gel for greater comfort. Padded with gel, these options are the most comfortable for commuter-length bike rides. The gel reduces saddle soreness while cycling.
Learn about Compression Shorts.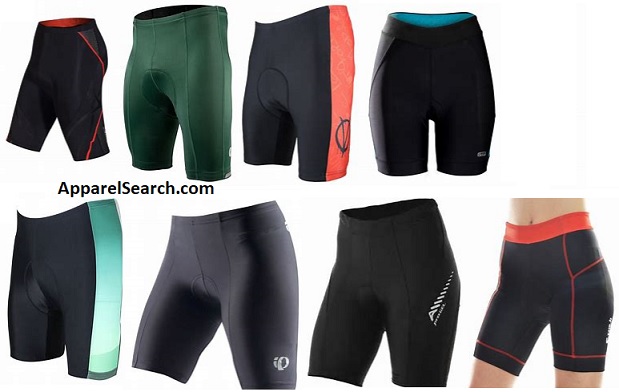 Cycling Shirts or cycling jerseys- look for functional styling, back pockets, wicking fabric, a zippered neckline and reflective fabrics.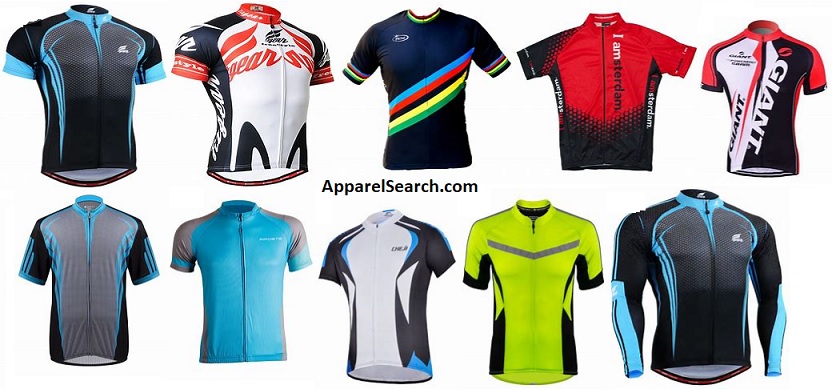 Learn more about cycling shirts.
Reflective Clothing For Bikers
Reflection is the change in direction of a wavefront at an interface between two different media so that the wavefront returns into the medium from which it originated. Reflective fabric helps reflect light to add visibility to some clothing.
High-visibility (HV) clothing, is a type of personal protective equipment apparel and is any clothing worn that has highly reflective properties or a color that is easily discernible from any background. Some cyclists wear high-visibility clothing when riding amongst motor vehicles.
Traffic risks to the cyclist are similar to those faced by motorcyclists, with the main differences being that bicycling speeds are typically lower, and the bicyclist wears less protective gear. almost all motorists believed that high-visibility clothing would increase cyclists' visibility.
Retroglo is a reflective yarn designed to increase nighttime safety. It is made of 3M Scotchlite Reflective Material and laminated to a polyester film for added strength. Retroglo is used for a wide variety of applications including high-visibility clothing for joggers, walkers, bicycle riders, and highway workers.

3M™ Scotchlite™ Reflective Material - A pioneer in the science of retroreflection Reflective and High Visibility Apparel from brands featuring 3M™ Scotchlite™ Reflective Material ensure your garments are truly compliant - look for the 3M™ Scotchlite™ Reflective Material logo. Learn more about reflective materials at 3M.

Learn more about reflective fabric suppliers.
Mountain Biking Requires Additional Protective Apparel
What is mountain biking?
Mountain biking is the sport of riding bicycles off-road, often over rough terrain, using specially designed mountain bikes. Mountain bikes share similarities with other bikes but incorporate features designed to enhance durability and performance in rough terrain. Mountain biking can generally be broken down into multiple categories: cross country, trail riding, all mountain (also referred to as "Enduro"), downhill, freeride and dirt jumping. However, the majority of mountain biking falls into the categories of Trail and Cross Country riding styles. The sport requires endurance, core strength and balance, bike handling skills, and self-reliance.
Clothing is chosen for comfort during physical exertion in the backcountry, and its ability to withstand falls. Road touring clothes are often inappropriate due to their delicate fabrics and construction. Depending on the type of mountain biking, different types of clothes and styles are commonly worn. Cross-country mountain bikers tend to wear lycra shorts and tight road style jerseys due to the need for comfort and efficiency. Downhill riders tend to wear heavier fabric baggy shorts or moto-cross style trousers in order to protect themselves from falls. All mountain/enduro riders tend to wear light fabric baggy shorts and jerseys as they can be in the saddle for long periods of time.

Glasses with little or no difference from those used in other cycling sports, help protect against debris while on the trail. Filtered lenses, whether yellow for cloudy days or shaded for sunny days, protect the eyes from strain. Downhill and freeride mountain bikers often use goggles similar to motocross or snowboard goggles in unison with their full face helmets.

Shoes generally have gripping soles similar to those of hiking boots for scrambling over un-ridable obstacles, unlike the smooth-bottomed shoes used in road cycling. The shank of mountain bike shoes is generally more flexible than road cycling shoes. Shoes compatible with clipless pedal systems are also frequently used.

A helmet and gloves are usually regarded as sufficient for the majority of non-technical riding. Full-face helmets, goggles and armored suits or jackets are frequently used in downhill mountain biking, where the extra bulk and weight may help mitigate the risks of bigger and more frequent crashes.
More About Body Armor For Mountain Biking
Body armor and pads, often referred to simply as "armor", protect limbs and trunk in the event of a crash. While initially made for and marketed at downhillers, freeriders and jump/street riders, body armor has trickled into other areas of mountain biking as trails have become steeper and more technically complex (hence bringing a commensurately higher injury risk). Armor ranges from simple neoprene sleeves for knees and elbows to complex, articulated combinations of hard plastic shells and padding that cover a whole limb or the entire body. Some companies market body armor jackets and even full-body suits designed to provide greater protection through greater coverage of the body and more secure pad retention. Most upper-body protectors also include a spine protector that comprises plastic or metal reinforced plastic plates, over foam padding, which are joined together so that they articulate and move with the back. Some mountain bikers also use BMX-style body armor, such as chest plates, abdomen protectors, and spine plates. New technology has seen an influx of integrated neck protectors that fit securely with full-face helmets, such as the Leatt-Brace. There is a general correlation between increased protection and increased weight/decreased mobility, although different styles balance these factors differently. Different levels of protection are deemed necessary/desirable by different riders in different circumstances. Backpack hydration systems such as Camelbaks, where a water-filled bladder is held close to the spine, are used by some riders for their perceived protective value. More recently, with the increase in enduro racing, backpack hydration systems are also being sold with inbuilt spine protection. However, there is only anecdotal evidence of protection at this time.
---
Nice Goal for Cyclists: The Tour de France is an annual multiple stage bicycle race primarily held in France, while also occasionally making passes through nearby countries. Like the other Grand Tours (the Giro d'Italia and the Vuelta a España), it consists of 21 stages over a little more than 3 weeks. The race was first organized in 1903. Traditionally, the race is held primarily in the month of July. While the route changes each year, the format of the race stays the same with the appearance of time trials, the passage through the mountain chains of the Pyrenees and the Alps, and the finish on the Champs-Élysées in Paris. The modern editions of the Tour de France consist of 21 day-long segments (stages) over a 23-day period and cover around 3,500 kilometres (2,200 mi). The race alternates between clockwise and counterclockwise circuits of France. Obviously not a race for those of you that are mountain bikers (unless you enjoy both types of biking).
---
Cycling Movie Tip: If you want to see an inspiring movie, watch Breaking Away. Breaking Away is a 1979 American coming of age comedy-drama film produced and directed by Peter Yates and written by Steve Tesich. It follows a group of four male teenagers in Bloomington, Indiana. Dave, Mike, Cyril, and Moocher are working-class friends living in the college town of Bloomington, Indiana. Now turning 19, they all graduated from high school the year before and are not sure what to do with their lives. They spend much of their time together swimming in an old abandoned water-filled quarry. They sometimes clash with the more affluent Indiana University students in their hometown, who habitually refer to them as "cutters", a derogatory term for locals related to the local Indiana Limestone industry and the stonecutters who worked the quarries. Dave is obsessed with competitive bicycle racing, and Italian racers in particular, because he recently won a Masi bicycle. When a professional Italian cycling team comes to town for a race, Dave is thrilled to be competing with them. However, the Italians become irked when Dave is able to keep up with them. One of them jams a tire pump in Dave's wheel, causing him to crash, which leaves him disillusioned. This is why you should always wear a helmet when biking. Dave's friends persuade him to join them in forming a cycling team for the Little 500. Dave's parents provide T-shirts with the name "Cutters" on them. A poor communities example of a racing shirt.
Learn about women's cycling clothing in our women's clothes guide section.
Fashion Products Fashion Products A-F Fashion Products C
Learn about performance fabrics in our fashion terms section.
---
Are you a fashion influencer?

Copyright 1999-2020 Apparel Search Company. All Rights Reserved.