Cycling, also called bicycling or biking, is the use of bicycles for transport, recreation, exercise or sport. This activity can be performed in almost any type of clothes. However, special clothing is available and encouraged.
Here are a few issues to consider when selecting your riding apparel. Reflective, moisture wicking, quick drying, comfortable, padded, and sun protective. If you are biking off-road (or on-road), you may also want to research mountain bike body armor. Most definitely you should also spend time research helmets.
Cycling clothing includes accessories, cycling jerseys, bike shorts, cycling tights and pants, cycling jackets, cycling skirts, cycling vests, and more.

Don't forget about hats, biking gloves, socks, and cycling shoes.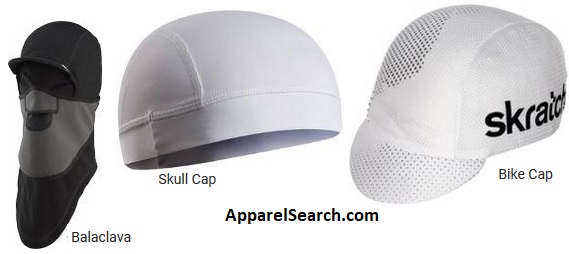 Have you heard of sun sleeves and arm coolers. Those are well suited for cyclists as well.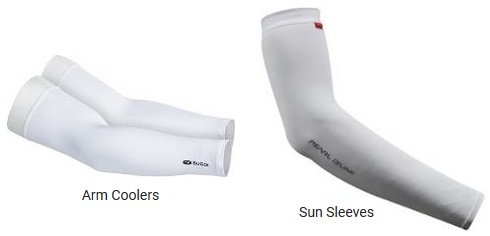 Arm Coolers: Keep your skin comfortable and protected, even in hot weather. Lightweight arm coolers are made for riding on bright, sunny days, with cooling fabric that provides UPF 50+ sun protection. Special material reacts to moisture and cools your skin temperature.
Sun Sleeves: Have more fun and get less exposure to the sun with the sun sleeves. They offer up to UPF 50+ protection, even when the fabric is stretched. Look for ones with reflective elements as well.
A bikers arms are important but so are the legs. On those cold days, you may want to keep them warm with leg warmers or knee warmers.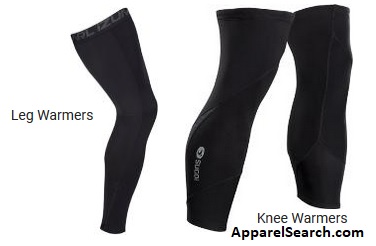 Learn more about important biking apparel categories from the links below.
Women's Cycling Shirts - think about stretch, comfort, wicking, and more. Oh, don't forget about reflective for safety. High visibility colors also a good idea.
Women's Cycling Shoes - Cycling shoes have a rigid sole, which provides a stable platform for your foot. You'll still be able to walk normally, and you'll get better power output when you are mashing the pedals. Don't wear your everyday sneakers.
Women's Cycling Shorts - The pad on the inside of the short, known as a chamois, might not look like it will do much, but it makes a world of difference. The shorts are the most important piece of cycling clothing, so take your time to select a good pair of shorts. We have heard, "Resist the urge to wear underwear beneath your cycling shorts. This is a major no-no. The chamois is a technical piece of equipment, and it needs to be against your skin to do its job properly".
A cycling team is a group of cyclists who join a team or are acquired and train together to compete in bicycle races whether amateur or professional and the supporting personnel. A team will generally wear co-ordinated outfits. In other words, the members of the team would wear the same uniforms with team colors and logos. Similar concept to other sports.
Don't forget to further research biking helmets.
People engaged in cycling are referred to as "cyclists", "bikers", or less commonly, as "bicyclists".

Return to the top of this Women's Cycling Clothing page.
Return to the Women's Clothes Directory C main page.
It may also be a good idea to do a little research on compression clothing.
Thank you for using the Apparel Search website.