Welcome to the worlds greatest guide to Women's Cycling Shoes. Are you actually looking for Women's Cycling Shoes? Well, we hope you are because the reality is that you have found our page on the subject. In this women's clothing section of the Apparel Search directory, you will find all sorts of interesting information regarding ladies cycling shoes.
Cycling, also called bicycling or biking, is the use of bicycles for transport, recreation, exercise or sport. This activity can be performed barefoot, in sneakers and even in high heel shoes of you were determined enough. However, if you are a serious cyclist, you may want to learn more about cycling shoes.

Anyone who rides regularly can benefit from shoes designed specifically for bicycling. Cycling shoes are usually paired with a compatible pedal to hold your feet securely on the bicycle.
Biking shoes are made with specific activities in mind. Riders will select different shoes for mountain biking verse street racing. The following are a few categories to consider while doing your research.
Mountain Bike Shoes
Road Cycling Shoes
City Cycling Shoes
Cycling Shoe Covers
Cycling Shoe Cleats
Biking shoes have various closures for consideration.
Laces
Rip-and-stick straps
Notched cam straps with buckles
etc.
Most bike shoes are designed to work with clipless pedals and feature holes drilled in the soles for attaching cleats. Cleats snap into the pedals to create a secure connection. Be aware that cleats are supplied with pedals, not the shoes, and that your cleats must match the shoes for compatibility. Below are examples of some cleat styles.
Some bike shoes are drilled to accept both 3- and 2-hole cleat designs, but most will accept only one or the other. Shoes made for use with 2-hole systems cannot be modified to use a 3-hole cleat. The 4-hole Speedplay pedal system can be adapted to fit many shoe styles.
Here is an example of a women's road bike shoe that is lightweight with carbon composite soles, 2-way ratcheting buckles. This shoe is from the Sidi brand.
Here is what the bottom looks like.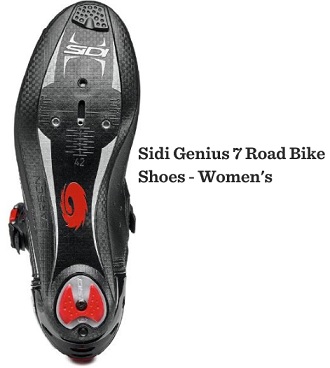 Here are some of the features of the Sidi Genius 7 Road Bike Shoes as an example of some of the features to be found when searching for road cycling footwear.
Women-specific design provides a more tapered foot shape, less volume around the instep and narrower heel cups than the men's version
Wide, anatomically curved straps with soft thermoformed EVA pads distribute pressure evenly over the instep area
Microtech microfiber uppers with non-solvent-based treatment provide water-repellent, supple and durable performance
Caliper Buckle 2-way ratchet allows easy on-bike adjustment with incremental tightening and loosening
Padded tongues eliminate pressure points
High-security hook-and-loop straps won't shift or slip
Reinforced heel cups reduce heel slip, boost power transfer and provide additional foot protection in the event of a crash
Millennium 5 carbon-composite soles use injected carbon fiber in a matrix of nylon, providing more rigidity than standard nylon soles
Replaceable, lightweight polyurethane heel pads improve walkability
More about specific biking activity footwear:
Road Bike Shoes: Virtually all road bike shoes offer lightweight construction, smooth outsoles and good ventilation. They are distinguished by their exceptionally stiff soles to facilitate power transfer to your pedals. Most clipless road bike shoes use either a 3-hole cleat system (Look, Time or SPD-SL styles) or 2-hole cleat system (SPD, crankbrothers or Time styles), and you'll want to match them up with a compatible pedal. They are not designed for use with non-clipless pedals.
City Bike Shoes: this type of shoe is for the more casual rider. They are a hybrid between cycling shoes and your every day casual footwear. city bike shoes offer compatibility with clipless pedal systems, but they have rubber outsoles and recessed cleats to allow easy walking.
Mountain Bike Shoes: Keep in mind when mountain biking, unfortunately you sometimes have to be off the bike for walking it. Fairly stiff sole for efficient pedaling, but have enough flex and a rubber-lug outsole to allow good traction for walking on slick or rugged trails. The cleats on mountain bike shoes are typically recessed into the soles, which makes for easier walking. Clipless mountain bike shoes use the 2-hole cleat system (SPD, crankbrothers or Time styles) and you'll want to match them up with a compatible pedal. Some mountain bike shoes have flat soles that can't accept cleats. These styles are meant specifically for use with platform pedals (and optional toe clips).
Cycling shoes are shoes purpose-built for cycling. There are a variety of designs depending on the type and intensity of the cycling for which they are intended. Key features include rigidity, for more-efficient transfer of power from the cyclist to the pedals, weight, a method of attaching the shoe firmly to the pedal and adaptability for use on and off the bicycle. Most high-performance cycling shoes can be adjusted while in use, via a quick-adjusting system that has largely replaced laces.
Here are a few examples of cycling shoe covers for when you are riding in the rain.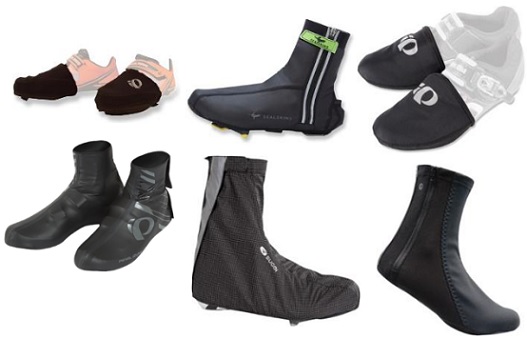 We strongly suggest you consult with your local bike store to discuss proper footwear.
When research cycling shoes, don't forget to also investigate cycling shoe cover options.
If you are going for a bike ride, you may also want to learn about the following categories.
You may also want to learn more about bike shoe covers. When the weather turns cold or wet, it is beneficial to slip shoe covers over your cycling shoes. They are often made of neoprene or a rubberized laminate to provide insulation and water resistance. Makes for a more comfortable ride in the rain.
Learn more about women's clothing from the following directory pages:

Return to the top of this Women's Cycling Shoes page.
Thank you for using the Apparel Search website.