Women's shoes are more than simply foot coverings. Yes, the typical definition of a shoe is a covering of the foot. However, many women wear them for the fashion rather than simply for utilitarian purposes.
A ladies shoe is a covering for the foot that is typically made of leather and have a sturdy sole. They generally do not reach above the ankle. Although leather is a popular choice, shoes obviously can be made of other materials as well. A shoe is a type of footwear that is for the most part intended to protect and comfort the foot while the wearer is doing various activities. Again, they may be intended for protection & comfort but that is not always the case. Some women's shoes are actually very uncomfortable and offer little protection.
From comfortable flats to designer heels, footwear retailers have the shoes many women need and want for every occasion. Whether you're searching for classic black pumps, new running shoes, or over-the-knee boots, it's easy to shop at online retailers such as Amazon or at your locate shoe store.
Don't forget to check out the Women's footwear page.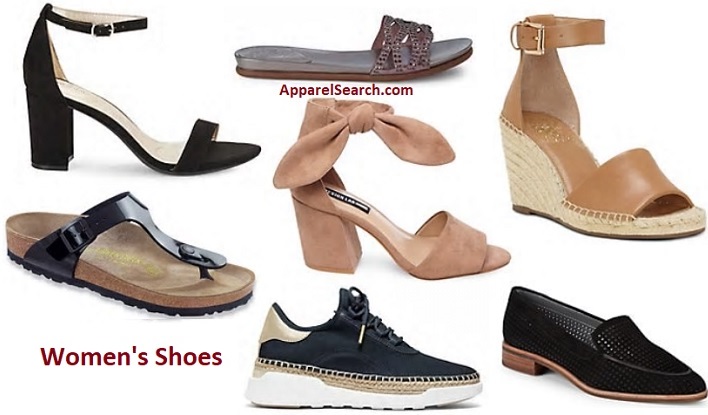 You can search for footwear by color by using our fashion by colors section:
Traditionally, shoes have been made from leather, wood or canvas, but they are increasingly made from rubber, plastics, and other petrochemical-derived materials.
Ladies shoes can be dressy, casual, extremely formal or anything in between. Consumers can find a very wide assortment of women's shoe styles, colors, and sizes.
High-heeled footwear is footwear that raises the heels, typically 2 inches (5 cm) or more above the toes, commonly worn by women for formal occasions or social outings. Variants include kitten heels (typically 1½-2 inches high) and stiletto heels (with a very narrow heel post) and wedge heels (with a wedge-shaped sole rather than a heel post).
Mules are shoes or slippers with no fitting around the heel (i.e. they are backless)
Slingbacks are shoes which are secured by a strap behind the heel, rather than over the top of the foot.
Ballet flats, known in the UK as ballerinas, ballet pumps or skimmers, are shoes with a very low heel and a relatively short vamp, exposing much of the instep. They are popular for warm-weather wear, and may be seen as more comfortable than shoes with a higher heel.
Court shoes, known in the United States as pumps, are typically high-heeled, slip-on dress shoes.
Clogs are a type of footwear made in part or completely from wood. Clogs are used worldwide and although the form may vary by culture, within a culture the form often remained unchanged for centuries.
Boat shoes, also known as "deck shoes": similar to a loafer, but more casual. Laces are usually simple leather with no frills. Typically made of leather and featuring a soft white sole to avoid marring or scratching a boat deck. The first boat shoe was invented in 1935 by Paul A. Sperry.
Platform shoe: shoe with very thick soles and heels.
Sandals: open shoes consisting of a sole and various straps, leaving much of the foot exposed to air. They are thus popular for warm-weather wear, because they let the foot be cooler than a closed-toed shoe would.
Saddle shoe: leather shoe with a contrasting saddle-shaped band over the instep, typically white uppers with black "saddle".
Slip-on shoe: a dress or casual shoe without shoelaces or fasteners; often with tassels, buckles, or coin-holders (penny loafers).
Slippers: For indoor use, commonly worn with pajamas.
Sneakers (also called athletic shoes, tennis shoes, gym shoes, sport shoes, runners, or trainers) are shoes primarily designed for sports or other forms of physical exercise, but which are now also widely used for everyday wear. The term generally describes a type of footwear with a flexible sole made of rubber or synthetic material and an upper part made of leather, synthetic substitutes or cloth.
Above are a few of the women's shoe options.
Learn more about various types of shoes.
Apparel Search is a leading guide to fashion, style, clothing, glam and all things relevant to apparel. We hope that you find this Women's Shoes page to be helpful.
What ever you are wearing, is in fashion.
If you want to be even more stylish, you should wear your favorite favorite pair of shoes.
Looking for shoe stores?
Learn more about Women's footwear.