Shorts are a garment worn over the pelvic area, circling the waist and splitting to cover the upper part of the legs, sometimes extending down to the knees but not covering the entire length of the leg.
Cycling, also called bicycling or biking, is the use of bicycles for transport, recreation, exercise or sport. This activity can be performed in almost any type of short or pant. However, special shorts are available and encouraged for active riders. Cycling shorts (also known as bike shorts, bicycling shorts, chamois, knicks, or spats) are short, skin-tight legwear designed to improve comfort and efficiency while cycling.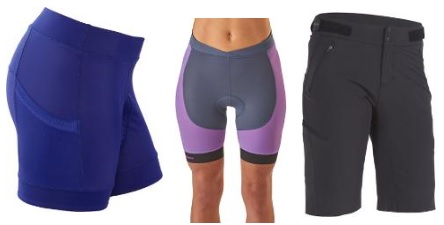 One of the first pieces of advice given to new riders is to buy a pair of cycling shorts padded with a chamois. Chamois padding was introduced nearly a century ago as a solution to chafing for endurance cyclists. Pad density is the key. With advances in molding techniques, companies are able to mold chamois to more anatomically correct shapes. Both a male and female chamois typically will resemble an elephant's head, with the female chamois having wider ears to accommodate women's larger hipbones, and a shorter, rounder nose.
Please note that "chamois" is a term relevant to biking pants, but the word is also used to describe an animal. The chamois is a species of goat-antelope native to mountains in Europe. In the past, chamois leather padding inside the shorts in the crotch area. Chamois leather is favored for its gentle, non-abrasive composition and absorption properties.
Historically, cycling shorts were made of knit black wool, which hides wear marks caused by sitting on a oiled leather saddle for extended periods of time, with a chamois leather padding inside the shorts in the crotch area, which reduces chafing from the bicycle saddle. Modern cycling shorts are often made of spandex (Lycra) with a synthetic chamois which acts as an elastic interface between the cyclist's body and the saddle, and are produced in a variety of shapes and styles to suit the needs of different riders
Cycling shorts have differences from every day casual shorts. They have added stretch for full freedom of movement and a padded crotch liner to reduce friction and wick moisture. Other differences also exist.
This type of short is most often made to fit tightly with high stretch fabric such as spandex.
Biking shorts typically have longer legs along with leg grippers to help prevent saddle chafing and keep shorts in place.
Padded liner: A smooth, soft pad of "chamois" (actually made of synthetic) minimizes friction, wicks moisture, prevents bacterial growth and helps cushion bumps. It's the most complex part of a bike short. There are a multitude of shapes, thicknesses and materials among brands and genders.
Mountain bike shorts: Sometimes called "baggies," these have a loose outer short in addition to the spandex chamois liner. The waist is fastened by a button or hook-and-look patch. Pockets are also common.
Most road shorts feature stretchy but non-adjustable spandex for the waistline.
Bib shorts: Bib shorts are cycling shorts that are held up by a bib (integral suspenders/braces) instead of an elastic waistband. Popular with cycling enthusiasts but a comfortable option for any rider, these don't have an elastic waistband that can restrict breathing.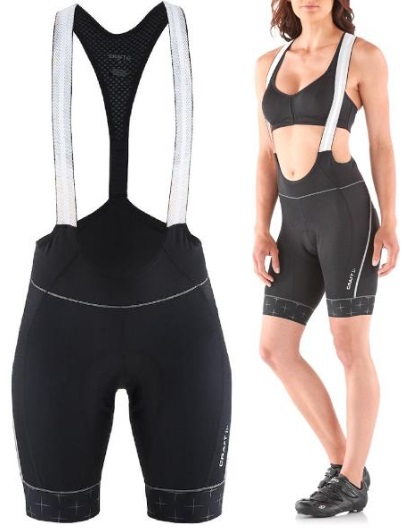 Tip: Worn with a jersey, a bib looks like any other bike shorts.
Skorts: For women, some brands make cycling skorts, where the spandex short is covered by a skirt.
If you wish to wear shorts, but need to be prepared for cold weather or you need sun protection, keep leg warmers or leg sleeves in mind. Leg warmers are a handy cycling accessory that can be used on the fly to make a pair of cycling shorts into tights or knickers.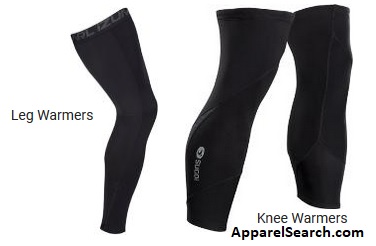 Important note from Apparel Search: No one likes to do laundry, but you should wash your shorts often. In fact it is suggest that you don't wear your shorts twice without washing them first.

Return to the top of the Women's Cycling Shorts page.
Thank you for using the Apparel Search website.