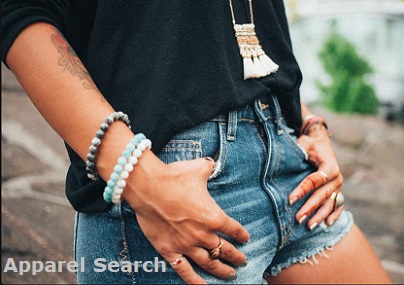 Shorts are a type of women's pants. Yes, they are shorter than long pants. In fact, long pants are long and short pants are rather short. Although they are classified based on length, the do have a wide variety of length options. Some women's shorts can be extremely short and others rather long (but not to the ankle or they would not be referenced as shorts).
Shorts are a garment worn over the pelvic area, circling the waist and splitting to cover the upper part of the legs, sometimes extending down to the knees but not covering the entire length of the leg.
Learn more about shorts for women and others.
Women's short pants come in a wide variety of fabrics, styles, colors and patterns. A few important categories include Bermuda shorts, swim shorts, culottes, cut-offs, cycling shorts, daisy dukes, dolphin shorts, denim shorts (jean shorts), gym shorts, hot pants, running shorts, short shorts, and more.
You can also check out jean shorts.
Research shorts by the color of your choice:

Apparel Search is a leading guide to fashion, style, clothing, glam and all things relevant to apparel. We hope that you find this Women's Shorts page to be helpful.
What ever type of short you are wearing is in style today for sure.
Did you know if you mix skirts with shorts, you get
skorts
?

If you want to be even more stylish, you should wear your favorite favorite Women's shorts today.
FYI, "boyshorts" are underwear, not short pants.
Women's Clothes Directory:
You might find the following sections of our site to be of interest: