Welcome to our guide to Women's Soccer Shorts. Are you actually looking for information on this type of garment? Well, we hope you are because the reality is that you have found our page on the topic.
Association football, more commonly known as simply football or soccer depending on where you live, is a team sport played with a spherical ball between two teams of 11 players. Most of the players wear short pants. The goalie often wears long pants.
In summary shorts are short pants that reach only to the thighs or knees. Shorts are a garment worn over the pelvic area, circling the waist and splitting to cover the upper part of the legs, sometimes extending down to the knees but not covering the entire length of the leg. This type of pant is often worn for athletics.
Women's soccer shorts should be an appropriate length that allows full movement and comfort while running, kicking, etc.
When playing in league games, you will most likely be provide shorts from your club as part of your team uniform. For practices, you may have to supply your own depending on your league.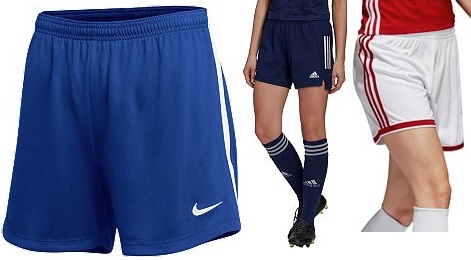 What ever you are wearing to play your favorite sport is in fashion. If you want to be even more stylish, you should wear your favorite soccer shorts today.
You will find many fabulous brands producing women's soccer shorts such as adidas, Nike, Puma, Umbro, Under Armour, etc.
NWSL (National Women's Soccer League)

Apparel Search is a leading guide to fashion, style, clothing, glam and all things relevant to apparel. We hope that you find this Women's Soccer Shorts page to be helpful.