Welcome to our sporty guide to Women's Soccer Shirts. Are you actually looking for information on this category of clothing. Well, we hope you are because the reality is that you have found our page on the topic. In this section of the Apparel Search directory, you will find all sorts of interesting information regarding soccer shirts for women.
Are you ready to get on the field or what other countries might refer to as the pitch? If yes, be sure that you are dressed appropriately.
In soccer, a pitch is another name for the playing surface on which the game of soccer is played. A soccer pitch is also known as a soccer field.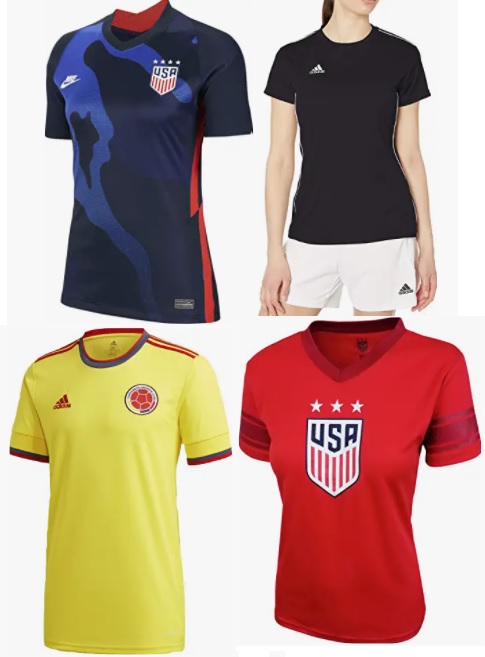 Soccer shirts are available for practice as well as game day. They are often specially engineered with appropriate fabrics. It is important for players to wear clothing designed for performance as well as comfort.
Wicking - moves moisture away from the body.
Soccer jerseys worn on game day are part of a soccer "uniform" or "kit".
A ladies sports jersey typically has a number so that the players can easily be identified by a referee. The back of the shirt often has the name of the player as well. A team shirt will also often have a team logo.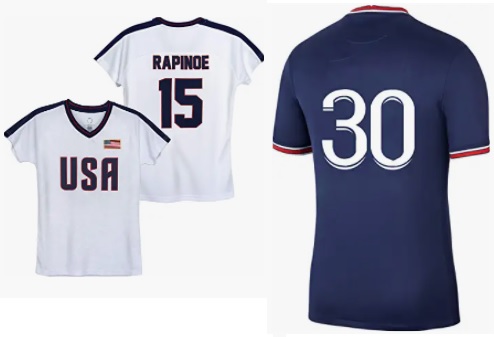 Some of the player numbers on the jersey actually have significance (or meaning). Numbers were originally used to also indicate position, with starting players being assigned numbers 1–11, although these numbers often bear little or no significance in the modern game other than the players' favorite numbers and the numbers available.
Goalkeeper
Right back
Left back
Centre back
Centre back
Central midfielder
Right winger
Central midfielder
Striker
Centre forward
Popular brands such as Nike, Puma, Adidas and others design & manufacture women's soccer uniforms and practice jerseys.
If you are not looking for a jersey to wear on the field, you can also find many fabulous printed tees with soccer themes.

What ever style of top you are wearing is in fashion. If you want to be even more stylish, you should wear your favorite women's soccer shirt today.
You may also want to learn about sports bras & jog bras which are good for under your soccer jersey.
Learn about women's athletic shirts.

Apparel Search is a leading guide to fashion, style, clothing, glam and all things relevant to apparel. We hope that you find this Women's Soccer Shirts page to be helpful.