Apparel Search is a leading guide to fashion, style, clothing, glam and all things relevant to apparel. We hope that you find this Women's Jog Bras page to be helpful.
Job bras are also referenced as sports bras. A sports bra is a bra that provides support to female breasts during physical exercise. Sturdier than typical bras, they minimize breast movement to help minimize or alleviate discomfort.
Some sports bras are designed to be worn as outerwear during exercise such as sports play or jogging. Sports bras can either encapsulate or compress breasts. Bras that encapsulate breasts have molded cups, while compression-type bras restrict movement by flattening the breasts. Encapsulation-type bras generally are more effective at reducing discomfort, but some women prefer compression designs.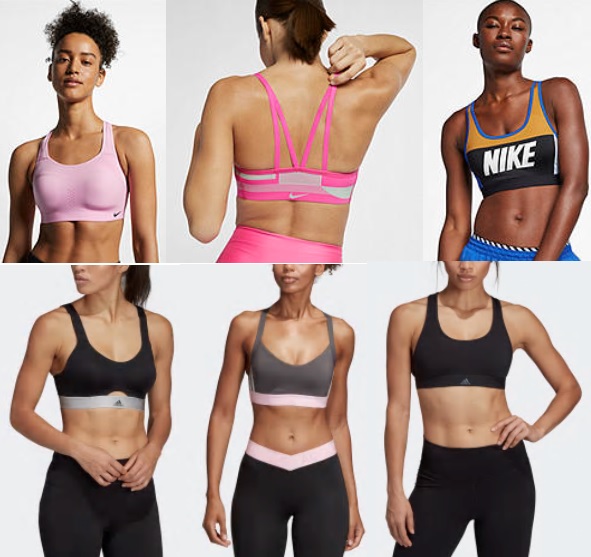 The most common sports bra is basically designed like a tank top with the bottom half cut off. However, you can find a wide variety of styles in the retail market.
A common design uses a stretchable, absorbent fabric such as Lycra designed to reduce irritation by drawing perspiration away from the skin.
Important sports bra brands include Nike, Adidas, Under Armour, etc.
A compressed bra is designed to push the breasts against the chest to reduce movement and bounce. Learn more about compression tops.

Learn more about women's sports bras.
What ever you are wearing, is in fashion.
You may want to also check out areobic pants, yoga pants, and Women's athletic pants.
If you want to be even more stylish, you should wear your Women's Jog Bras.
Learn about other types of fitness tops for women.