Apparel Search is a leading guide to fashion, style, clothing, glam and all things relevant to apparel. We hope that you find this Women's Jogging Pants page to be helpful.
The main intention of jogging is to increase physical fitness or to get from one place to another. Although it is not truly critical, it is a good idea to look trendy while doing it.
Jogging is a form of running at a slow or leisurely pace. Jogging has less stress on the body than from faster running but more stress than walking. Jogging is good for maintaining a steady speed for longer periods of time. Women have a wide assortment of outfits to wear when jogging. Obviously, you will need a good pair of running shoes, but we also advise that you wear pants. Yes, the choice between short pant or long pant is up to you, but certainly a pair of pants would be recommended.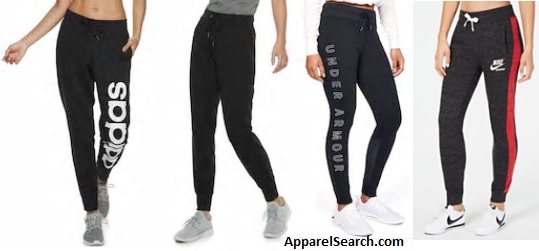 Learn more about the following garments.
Every on-trend wardrobe needs a pair of ladies joggers.
Sweat pants are good for lounging, jogging, or making your way around town to do a variety of activities. Fitness pants are versatile and are a great go to garment.
You may also want to learn about women's running shoes.
What ever style of pant you are wearing, is in fashion. Take the first step, and go for a job. It is a healthy idea.

If you want to be even more stylish, you should wear your favorite jogging pant today.