Welcome to the worlds greatest guide to Women's Pants. Are you actually looking research pants for women? Well, we hope you are because the reality is that you have found our page on the topic.
Apparel Search is a leading guide to fashion, style, clothing, glam and all things relevant to apparel. We hope that you find this Women's Pants page to be helpful.
What are pants? Come on, you already know the answer. Pants are the same as trousers. In the United States they are typically called pants and in British English they are often referenced as trousers. Regardless, they are essentially clothing worn on the lower half of the body often from the waist to the ankles and covers both legs separately. Pants don't have to reach all the way to the ankles, but they do have to cover both legs separately. If they don't cover the legs separately you might actually be wearing a dress or skirt.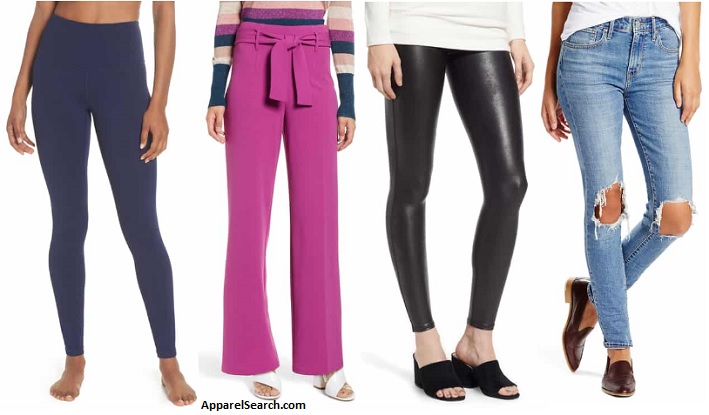 Women's pants includes casual, business (wear-to-work), night out, special occasion, formal and other categories of design. Ladies pants come in a wide assortment of styles, fabrics, and colors. A few examples include cropped, ankle-length pants, relaxed-fit styles, pleated trousers, fold-over linen flares, designer denim, stretch twill capris, slim-legs, wide-legs, skinny fit, straight-legs or more.
Below are a few styles of pants to review further.
Learn about various types of pants for women.
You can find women's pants with stretchy blends, hidden hook-and-eye closures, five-pocket styles, and more. Discover tons of designs in a wide assortment of styles, fabrics, and colors. You can discover fabulous neutrals, bright colors and even prints. Looking for cozy comfort? Modern stretch pants give a beautiful fit and stay comfortable all day. Go with a black slim-fit pant for the office or leggings.
You can also check the following trouser categories for women:
Check out some of the following pant colors:
You may also want to research printed pants such as camouflage pants.
When shopping for classic women's pants, here's what you need to know if you are torn between flat front verse pleated versions.
Flat front pants help you create a smooth silhouette. Typically, flat-fronts have a medium rise; they'll rest on your hips.
Pleated women's dress pants and women's khaki pants are a little more generous in the middle.
Don't forget, shorts are also pants.
Learn about dress pants for women or men.

What ever you are wearing, is in fashion.
If you want to be even more stylish, you should wear your favorite Women's Pants.
Visit your favorite retailer to find the latest styles of women's pants in a variety of patterns and materials.
Have you seen our Fashion Designer Directory section?