Apparel Search is a leading guide to fashion, style, clothing, glam and all things relevant to apparel. We hope that you find this Women's Leather Pants page to be helpful.
We would be surprised if you did not already know that, "a women's leather pant is a pant made of leather". Pants are an important type of clothing that is worn from the waist toward the ankles, covering both legs separately (rather than with cloth extending across both legs as with a skirt, dress or robe). Women's pants come in a wide variety of styles (short, long, capri, bell-bottom, skinny, etc.). They also can be produced with a variety of materials. One of which obviously being leather.
Leather is a natural durable and flexible material created by tanning animal rawhides and skins. It is a fabulous material for producing sexy women's pants.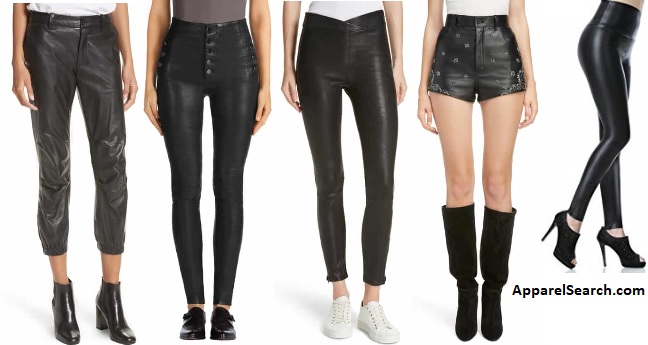 Leather is a material made from the skin of an animal by tanning or a similar process. Learn about the various types of leather grain that can be used for women's pants.
Pleather pants are imitation leather made from polyurethane (imitation leather pants).
What ever you are wearing, is in fashion.
If you want to be even more stylish, you should wear your Women's Leather Pants.