Welcome to our ladies fashion guide to Women's Slacks. Are you actually looking for more information on this category of clothing? Well, we hope you are because the reality is that you have found our women's slacks page. In this section of the Apparel Search directory, you will find all sorts of interesting information regarding slacks for ladies.
Are slacks the same as pants and trousers? Actually we have found a variety of definitions regarding this category of clothing. We have read that slacks are a casual trouser (or pant). But we have also seen comments that slacks are pants with a waistband, belt loops, and a fly which are words that can easily describe elements of dress pants (more formal). In the opinion of Apparel Search, slacks are a type of pant that leans toward business casual or business attire.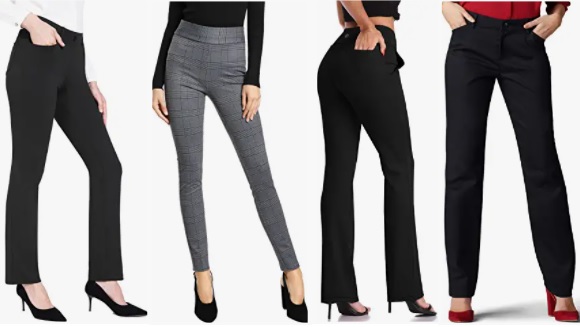 Trousers, slacks, or women's pants are an item of clothing often worn from the waist to the ankles (they come in various lengths), covering both legs separately.
What ever you are wearing to cover your lower half is in fashion. If you want to be even more stylish, you should wear your favorite pair of women's slacks today.

You may find the following sections of our fashion industry website to be of interest.
Apparel Search is a leading guide to fashion, style, clothing, glam and all things relevant to apparel. We hope that you find this Women's Slacks page to be helpful.