In this women's clothing section of the Apparel Search directory, you will find all sorts of interesting information regarding cargo pants for women.
What is cargo? The typical definition is regarding goods (products) carried on a ship, aircraft, or motor vehicle. However, small amounts of cargo can be carried in our pant pockets. OK, we obviously can't carry too much in our pants, but we do have some trouser styles designed with extra pockets to allow us to carry additional items.
A cargo pocket is a form of a patch pocket, often with accordion folds for increased capacity closed with a flap secured by snap, button, magnet, or Velcro common on battledress and hunting clothing.

Women's Cargo pants are loose-fitting casual slacks with large patch pockets on the thighs. Cargo pants or cargo trousers, are sometimes called combat trousers (or combat pants) after their original military purpose. These loosely cut pants were originally designed for tough, outdoor activities, and whose design is distinguished by one or more cargo pockets.

Cargo pants are often made of hard wearing fabric and ruggedly stitched if they are intended for outdoor adventures. Increasingly they are made of quick-drying synthetic or cotton-synthetic blends. However, many cargo pants are made for fashion rather than outdoor adventures. In that case, they do not need to be made for rugged conditions.
This type of pant can be made from a wide assortment of fabrics including denim.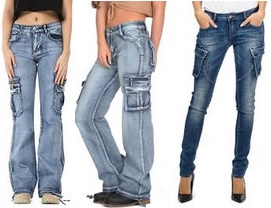 Cargo pants often (but not always) feature oversized belt loops to accommodate wide webbing belts.
Tactical pants are closely related to cargo pants, but with some technical modifications, and specially designed as everyday wear for a range of professions from EMTs, FBI and SWAT Team agents, law enforcement officers, and military and fire professionals.
EMT pants are cargo pants with six-way cargo/scissor pockets on one or both legs, each with a hidden zippered pocket on top of cargo pocket, a bellowed flap pocket with increased carrying capacity, besom pockets on calves for glove storage, and three slots for scissors (two fitted with snap closures).
Cargo shorts are cargo pants shortened at the knee.
Apparel Search is a leading guide to fashion, style, clothing, glam and all things relevant to apparel. We hope that you find this Women's Cargo Pants page to be helpful.
What ever type of pant you are wearing today is in fashion.
If you want to be even more stylish, you should wear your Women's Cargo Pants.
Learn about other pant styles in our terminology section.

Thank you for using the Apparel Search website.