Why go dressy, when you can go casual?
A pant is an outer garment covering the body from the waist to the ankles, with a separate part for each leg.
In general, casual attire is associated with emphasizing personal comfort and individuality over formality or conformity. As such, this type of dress may also be referred to as leisurewear. Casual pants are trousers that can be worn for comfort or casual occasions.
Whether you're at home, out shopping, or exploring the outdoors wearing a comfortable and casual pair of pants is usually a good choice. Stay comfortable in a pair of women's casual pants. You will find that this category of pant has a wide range of colors, materials, and cuts, available.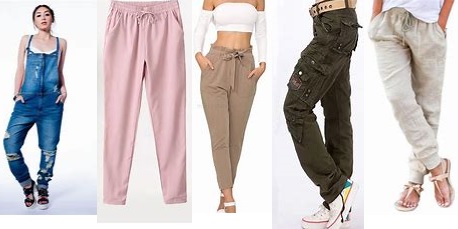 While ladies casual trousers like joggers are often worn with a little leeway (extra room), casual styles such as chinos and cargos typically have a more tailored fit.
Casual pants can be designed for fitness, the outdoors, casual business settings, etc.
Fitness pants such as yoga pants can also be considered a type of casual pant.
Some casual pants can be expertly designed and made for the shared joy of the outdoors. If you were to ask me, women's cargo pants make an excellent choice if you are looking for casual pants for the outdoors. The cargo pockets allow the wearer to career additional items for an exciting outdoor adventure.
If you are going for a step up from truly casual, you may need trousers for a business casual setting. Business casual is an ambiguously defined dress code that has been adopted by many professional and white-collar workplaces in Western countries. It entails neat yet casual attire and is generally more casual than informal attire but more formal than casual or smart casual attire. Casual Fridays preceded widespread acceptance of business casual attire in many offices.
Jeans
can be considered casual pants as well.
Apparel Search is a leading guide to fashion, style, clothing, glam and all things relevant to apparel. We hope that you find this Women's Casual Pants page to be helpful.
What ever style of trouser you are wearing, is in fashion.
Learn about different styles of trousers in our fashion terminology section.
If you want to be even more stylish, you should wear your Women's Casual Pants.

Return to the Women's Clothes Directory C main page to learn about more ladies clothing that starts with the letter "C".
Thank you for using the Apparel Search website.