In this women's clothing section of the Apparel Search directory, you will find all sorts of interesting information regarding casual tops for women.
Casual attire typically emphasizes personal comfort and individuality over formality. Ladies casual shirts can be worn for comfort or casual situations.
Blouses that are relaxed and suitable for everyday wear rather than for formal occasions may be considered as casual shirts. Women may wear a casual blouse to work on "casual Friday" or other days of the week if appropriate at their place of employment. If you are not certain, check with your companies dress code.
T-shirt, denim shirt, sweatshirts, and many other types of shirt styles can fit into the casual category. If you shop at a department store or one of your favorite boutiques, you will most likely find a very wide variety of shirts to get you ready for any season and all casual occasion. Shop retailers at your local mall or online to find a selection of women's long-sleeve shirts, 3/4-sleeve shirts, short-sleeve, tee shirts, sleeveless shirts, etc. You are sure to find something that would fit perfectly into your wardrobe.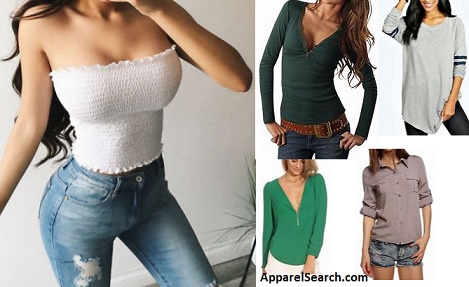 Women's casual shirt come in v-neck, crew neck, button down, mock turtle, or you name. The selection is truly near endless.

Thank you for using the Apparel Search website.