Shopping for women's fashion could never be easier... You can head to the mall or simply shop for clothing online.
◊ Buy Women's Clothing by Shopping Amazon
◊ Shopping Women's Fashion on eBay

A retailer or a fashion boutique is a business that presents a selection of clothing, footwear, or fashion accessories and offers to trade or sell them to customers for payment. Shopping for clothes is an activity in which a customer browses the available selection of one or more retailers with the intent to purchase a suitable selection. In some contexts it may be considered a leisure activity as well as an economic one.
Online shopping is a form of electronic commerce which allows consumers to directly buy goods or services from a seller over the Internet using a web browser. Consumers find a product of interest by visiting the website of the retailer directly or by searching among alternative vendors using a shopping search engine, which displays the same product's availability and pricing at different e-retailers. When purchasing women's fashion online shopping has a few disadvantages. Primarily, the garment can not be tried on prior to purchase when shopping online. However, many online retailers have worked around this point by offering free shipping and an easy return policy.
Don't forget to try the clothing shopping price comparison engines.
Women's Accessories
Jeans - Women's Jeans
Activewear - women's
Dresses
Skirts
Intimate Apparel
Women's Pants
Women's Shoes
Women's Shorts
Women's Socks
Women's Hosiery
Plus Size Clothing
Shorts - women's short pants
Women's Outerwear
Socks
Sleepwear
Women's Sweaters

Amazon

Women's Clothing
Women's Fashion
Women's Apparel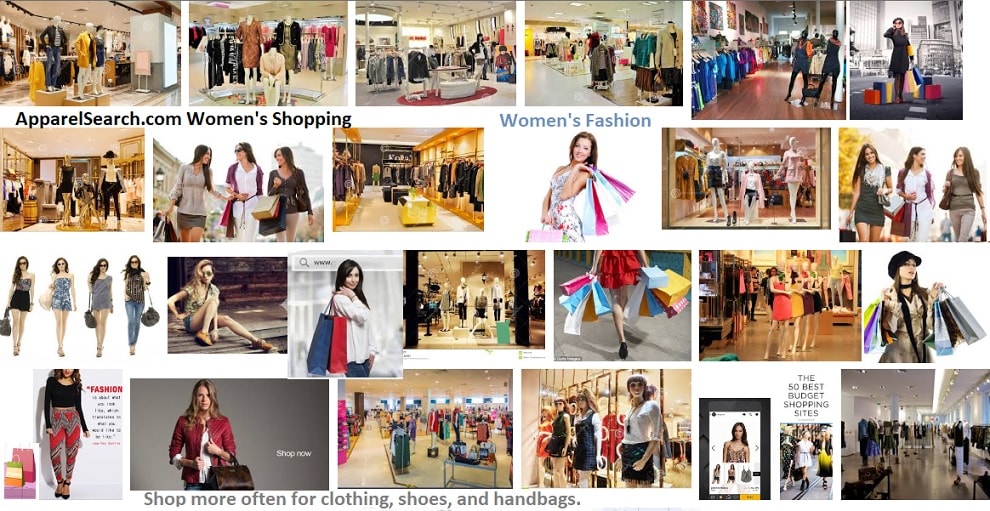 What's better than shopping for women's clothing? The only possibility of something better would be shopping for shoes or accessories.
Thank you for using the Apparel Search website.