Welcome to the worlds greatest guide to Women's Drawstring Pant.
A drawstring is a string (or similar material) in the seam of the material of a garment which can be pulled to tighten or close it. This component of a women's pant can be made of string, cord, lace, ribbon, rope, etc. Any type of material that can be pulled to draw the garment in tighter or to re-loosen. Generally speaking, the drawstring is loose when not being used, and tightened when needed.
Women's pants are an item of clothing worn from the waist toward the ankles, covering both legs separately. Most women have at least one pair of pants in their wardrobe. The beauty of the drawstring waist version is that the pant can adjust as your body adjusts in size. An adjustable drawstring is perfect for an easy & fashionable fit.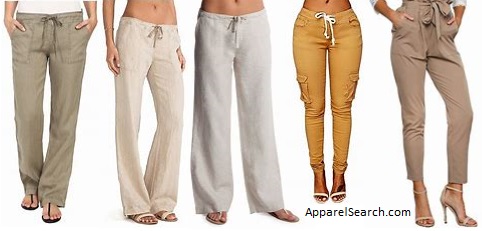 Keep in mind that some drawstrings are functional and some are simply there for the visual aspect of the design. Before you purchase the pant, be sure to check if it is a functional or faux drawstring.
Faux means made in imitation; artificial or fake. Don't be fooled by the non-functional drawstring.
Many different categories of pant have the option of a drawstring. One of the most popular may be the sweatpant or other types of fitness pants.
Looking to add comfort and versatility to your laid-back look? Check out the newest drawstring pants. From sophisticated solids to signature prints, discover the perfect silhouette to elevate your kicked-back style. women's drawstring waist paints look great on virtually everyone.
You may want to also learn about the following:
Difference between Capris and Cropped Pants
You may also find interest in women's drawstring dresses.
What ever type of pant you are wearing is in fashion for sure. If you want to be even more stylish, you should wear your favorite trouser style today.

Return to the Women's Clothes Directory D main page.
Thank you for using the Apparel Search website.