Welcome to the worlds greatest guide to ladies drawstring dress.
A drawstring is a string (or similar material) in the seam of the material of a garment which can be pulled to tighten or close it. It can be made of string, cord, lace, ribbon, rope, etc. Any type of material that can be pulled to draw the garment in tighter or to re-loosen. Generally speaking, the drawstring is loose when not being used, and tightened when needed.
Drawstrings are commonly used at the waist but can also be used at the sleeves, bottom of pants, on jackets, etc. They also can obviously be utilized on a women's dress.
A dress is a garment consisting of a skirt with an attached bodice. It consists of a top piece that covers the torso and hangs down over the legs. A dress can be any one-piece garment containing a skirt of any length.
Not all drawstring dresses are created equal. When purchasing a drawstring dress check to see if it is functional or just for show. On some dresses the drawstring is just an aspect of the design detail (appearance) rather than functionality. Sometimes the designer mayl add a bit of elastic in the waist and the drawstring doesn't function at all. Or you may find no elastic or functioning drawstring.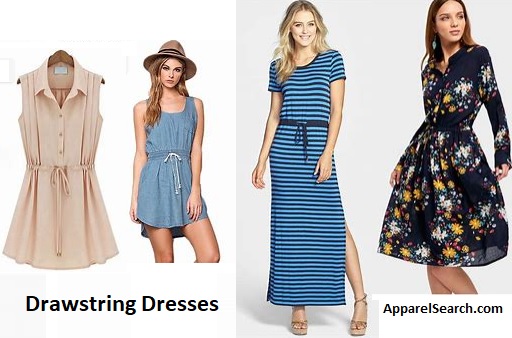 Drawstring dresses may be at the top of the fashion ladder this season, so don't miss out if you don't already have at least one in your wardrobe.
An adjustable drawstring is perfect for an easy & fashionable fit.
What ever style of dress you are wearing is most definitely in fashion. If you add a draw cord, it most likely fits well around the mid-section as well. If you want to be even more stylish, you should wear your favorite drawstring dress today.
Apparel Search is a leading guide to fashion, style, clothing, glam and all things relevant to apparel. We hope that you find this women's drawstring dress page to be helpful.
You may want to visit the dress stores page to find a retailer near you.
Do you know the difference between a dress and a gown? Maybe their is no difference. Let's check in the fashion questions & answers section. Learn the difference between a dress and a gown if you are intererested.

You may also want to learn about designer dresses. Some of which may have a drawstring.
Thank you for using the Apparel Search website.