Welcome to the worlds greatest guide to Women's Dresses. Are you actually looking for Women's Dresses? Well, we hope you are because the reality is that you have found our page on the subject.
In this women's clothing section of the Apparel Search directory, you will find all sorts of interesting information regarding Women's Dresses.
Are dresses and skirts the same thing?
A dress is a garment consisting of a skirt with an attached bodice (or a matching bodice giving the effect of a one-piece garment). It consists of a top piece that covers the torso and hangs down over the legs. A dress can be any one-piece garment containing a skirt of any length. Dresses can be formal or informal.
The hemlines and necklines of dresses vary depending on the fashion of the time period and the modesty or personal taste of the wearer. Dresses come in a wide variety of shapes & sizes.
Dress Lengths: Long dress, maxi, midi, knee length, mini, micro, etc.
The neckline is the top edge of a garment that surrounds the neck. Dresses can have a wide assortment of options. Options include, square neck, v-neck, plunging neck, sweetheart necklines, keyhole necklines, etc.
Dresses come in a wide variety of fabrics, colors, & styles.
Here are only a few of the many options for further review.
Dresses come in nearly an endless supply of color options. Below are a few of the popular colors. Each of these would then come in a wide assortment of shades.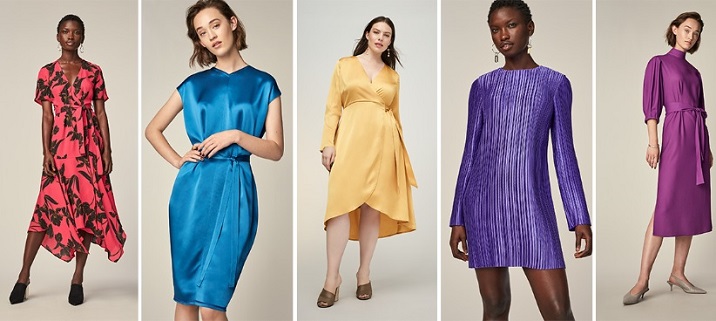 You can shop for dresses at numerous fashion boutiques or online at retailers such as Amazon (dresses at Amazon). Fine retailers such as Nordstrom, Lord & Taylor, Neiman Marcus, and others often have a nice selection available year round.
Below are a few more categories for your research:
Are you getting married?
A wedding dress or wedding gown is the clothing worn by a bride during a wedding ceremony. Color, style and ceremonial importance of the gown can depend on the religion and culture of the wedding participants.
If you are getting married in the near future, you would want to learn more about bridal dresses. Choosing the proper wedding gown is hugely important.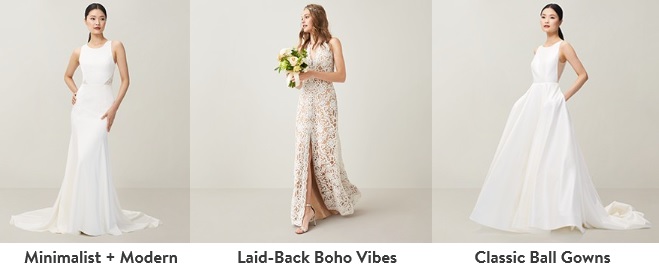 You may have interest in viewing our holiday party dress page in our fashion product influence section.

You may want to also visit our fashion designer and popular brands section from the following links:
Thank you for using the Apparel Search website.