Apparel Search is a leading guide to fashion, style, clothing, glam and all things relevant to apparel. We hope that you find this Women's Knit Dresses page to be helpful.
A ladies knit dress can be beautifully patterned and versatile. It can be designed to be appropriate for day and evening.
A dress (also known as a frock or a gown) is a garment consisting of a skirt with an attached bodice (or a matching bodice giving the effect of a one-piece garment). It consists of a top piece that covers the torso and hangs down over the legs. A dress can be any one-piece garment containing a skirt of any length.
Knitting is a method by which yarn is manipulated to create a textile or fabric, often used in many types of garments. Knitting may be done by hand or by using a machine. The fabric that is produced can be used for a wide variety of garment categories. When knit fabric is used to make a dress, what do you think it is called? Yes, it would be called a "knit dress".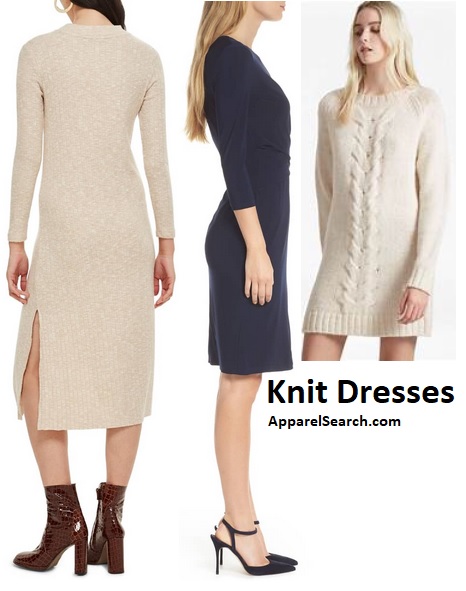 Knitting creates multiple loops of yarn, called stitches, in a line or tube. Knitting has multiple active stitches on the needle at one time. Knitted fabric consists of a number of consecutive rows of intermeshing of loops. As each row progresses, a newly created loop is pulled through one or more loops from the prior row, placed on the gaining needle, and the loops from the prior row are then pulled off the other needle. When knitting, the manufacturer can use a wide variety of textile fibers.
Knit dresses for women come in a wide variety of silhouettes, colors, and sizes.
What ever style of dress or gown you are wearing or plan to wear is most likely in fashion. Keep in mind that "you" are a trend setter.
The hemlines of dresses vary depending on the fashion of the time period and the modesty or personal taste of the wearer.
You can find a ladies knit dress to fit every mood & occasion from the maxi style to a long sleeved jersey knit dress and even a sleeveless tank dress.
You can find fabulous knit dresses at fine retailers such as Nordstrom, Neiman Marcus, and others.
If you want to be even more stylish, you should wear your Women's Knit Dresses.

Have you seen our Fashion Designer Directory section?