Apparel Search is a leading guide to fashion, style, clothing, glam and all things relevant to apparel. We hope that you find this Women's Floral Dresses page to be helpful.
Floral essentially means flowers. In regard to dresses, when we say "floral", it means a fabric with a floral design. A women's floral dress is a reminder of spring & summer. However, florals can certainly be worn year round. Floral dresses help remind of cool summer breezes as well as fragrant spring blossoms. A cute floral dress certainly enough to make you look beautiful.
A dress is a garment consisting of a skirt with an attached bodice. It consists of a top piece that covers the torso and hangs down over the legs. A dress can be any one-piece garment containing a skirt of any length. Learn more about women's dresses.
A ladies floral dress is decorated with or consisting of flowers or patterns of flowers or relating to, or associated with flowers.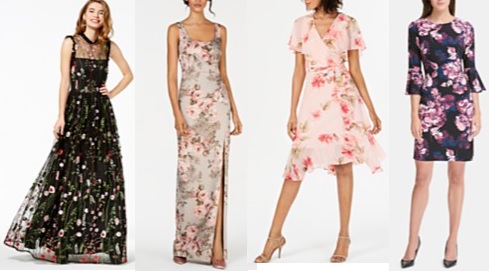 What ever print style you choose to wear is most definitely in style. Everything "you" wear is trendy.
Learn more about women's floral fashion.
If you want to be even more stylish, you should wear your Women's Floral Dresses.

Have you seen our Fashion Designer Directory section?