Welcome to the worlds greatest guide to Women's White Dresses.
A dress is a garment that consists of a skirt with an attached bodice.
A bodice is an article of clothing for women and girls, covering the body from the neck to the waist.
It consists of a top piece that covers the torso and hangs down over the legs. A dress can be any one-piece garment containing a skirt of any length. They come in a wide variety of fabrics, silhouettes and colors.
The color white is a fabulous option for a dress.
In the United States, one of the first dresses to come to mind when discussing the color white would be a bridal gown (wedding dress).
A wedding dress or wedding gown is the clothing worn by a bride during a wedding ceremony. Color, style and ceremonial importance of the gown can depend on the religion and culture of the wedding participants. In Western cultures, brides often choose white wedding dress, which was made popular by Queen Victoria in the 19th century.
White is the lightest color and is achromatic (having no hue), because it fully reflects and scatters all the visible wavelengths of light. It is the color of fresh snow, chalk, and milk, and is the opposite of black. According to surveys in Europe and the United States, white is the color most often associated with perfection, the good, honesty, cleanliness, the beginning, the new, neutrality, and exactitude.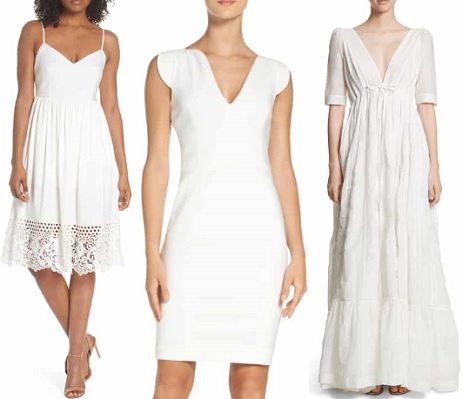 Dresses can be formal or informal. The color white can work well for either.
Apparel Search is a leading guide to fashion, style, clothing, glam and all things relevant to apparel. We hope that you find this ladies white dress page to be helpful.

What ever type of garment you are wearing today is in fashion.
If you want to be even more stylish, you should wear your favorite white dress.
Check out more women's dresses.
Find more women's dress colors to choose from in our ladies clothing color section.

Thank you for using the Apparel Search website.