Whether you are attending a formal holiday cocktail soiree, holiday office party, family event, or an ugly sweater party, it is important to be dressed appropriately.
A party is a gathering of people who have been invited by a host for the purposes of socializing, conversation, recreation, or as part of a festival or other commemoration of a special occasion. A holiday party typically refers to the parties that take place in December which is considered the holiday season. Generally around the time period of Christmas, Hanukkah & the New Year. Technically the holiday season starts directly after Thanksgiving and goes thru New Year's Day.
Many businesses have holiday office parties to celebrate the end of the year and the various holidays that take place during the month of December. Event organizers have a wide selection of options when arranging a holiday party. Among other things, they will consider location, food, possible entertainment, party favors, etc. Although party planner options are nearly endless, the available budget for the event plays an important factor. The same goes for selecting a holiday party dress. The options are nearly endless, but your budget should be considered as a primary factor.
In addition to your dress budget, we strongly suggest you think about the dress code for the event. If you are attending an office party, it is often wise to keep the dress attractive, but not overly. Check with your company if you need advice regard the dress code. There is often a difference between a nightclub party dress and an office party dress. Either is fine, but be sure to dress appropriate based on your particular office environment.
Here are a few classy holiday office party dresses (which can also be considered sexy):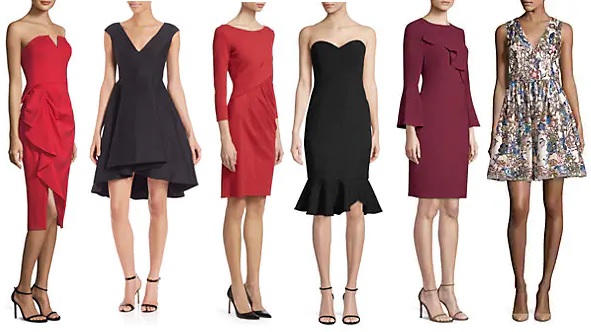 Here are a few sexy holiday office party dresses (which can also be considered classy):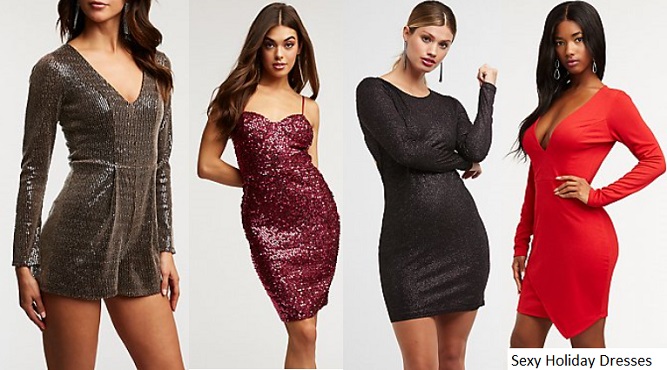 A holiday party is often referenced as a Christmas party but it does not specifically have to be entirely about Christmas. A holiday party dress should be festive but it does not have to be covered in Santa Claus prints. Christmas tree print patterns, reindeer or candy canes are also acceptable, but not a necessity.
Holiday Party Motif Dresses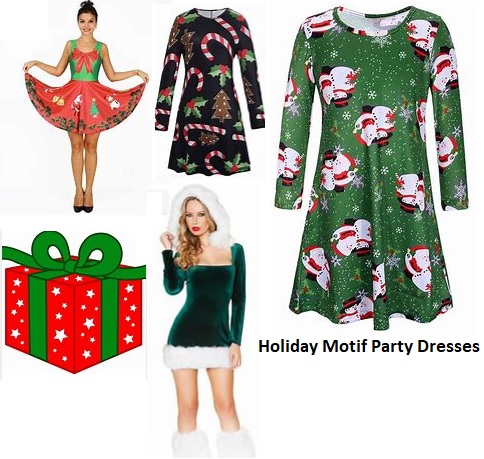 You should consult with the party organizer if you have questions about expectations in regard to dress.
You may want to begin your party-ready looks for the holiday season in November. If you start shopping around Black Friday, you will find retailers with plenty of festive dresses for women and juniors perfect for those cant-miss holiday occasions. Take your time to search your favorite fashion retailers for the best sequin dresses, lace dresses and velvet wrap dresses to greet the family, friends or co-workers for Xmas, New Years, Thanksgiving and more!
If your holiday part involves Ugly Christmas Sweaters, you may want to investigate a wide assortment of embellishments for your outfit.
Fashion Products Fashion Products G-L Fashion Products H
---
Return to the Influence Fashion home page.

Copyright 1999-2017
Apparel Search Company. All Rights Reserved.