Ugly Christmas sweaters blend holiday tradition with modern humor.
What is the origin of the Ugly Christmas Sweater?
Most likely it began in Santa's workshop.
As a kid, the last possible thing you wanted to find on Christmas Morning was clothing of any variety. Other than socks, getting an ugly sweater was the worst.
Unfortunately, ugly Christmas sweaters had originally been designed with the intention of being fashionable. Over the years, after much ridiculed they have turned into a form of joke. Now they are purposely made to look unappealing.
The concept of the ugly Christmas sweater began to take root in the 1980's.
The 1989 film, National Lampoon's Christmas Vacation, is frequently cited in the Ugly Sweater history. Although Chevy Chase's sweaters in the film tend to be more traditional than the over-the-top. Comedian Bill Cosby, who played Dr. Cliff Huxtable in the 1980s sitcom "The Cosby Show," was also known for wearing rather load sweaters. He wore gaudy knits known as Cosby sweaters. The Cosby Sweater was a sweater worn By BILL COSBY on the TV show THE COSBY SHOW. The sweaters were designed by KOOS VAN DEN AKKER, a NYC designer who is famous for his wild collaged garments.
There has been a noticeable revival of ugly Christmas sweater themed parties where people make fun of themselves, friends, or their parents who loved the festive looks and had thought that the sweaters were cute.
The Rise of Ugly Christmas Sweater Party:
In the past, people wanted to hide in a corner if they had to wear a nasty looking sweater that they received as a gift from a loved one. Although embarrassed to wear the garment, it would be too insulting to the gift-giver if it was not worn. Today, the hideous designs are often embraced & cherished rather than hidden and shunned. Now special parties are thrown for people to display their worst.
the Ugly Christmas Sweater party has become an annual tradition in which anyone can be as funny as they would like.
Make your ugly Christmas sweater party a huge hit with an ultimate guide of ugly Christmas sweater party ideas. Decorations, invitations, awards, games and more can be found online.
You can go as tame or crazy as you want to go, but we definitely suggest going crazy if you are brave hearted. Let loose for the holidays.
If you are planning to host an "ugly Christmas sweater party", you may want to consider the following tips.
Invitation: make sure you are clear to inform your guests that the theme is "ugly sweaters". It is sort of like a Halloween costumer party. If you don't explain the theme, it can go horribly wrong.
Decoration: as with all good parties, don't forget to dress up the suroundings.
Food: obviously make sure that the food is fabulous.
Photography: you "must" capture the glory of the event. If the person was brave enough to wear that sweater, they are hopefully brave enough to be photographed wearing it.
Games: if you are requesting your guests to get dressed up in their worst, you should consider rewarding them for their efforts. Voting for the best of the worst is often fun for everyone involved (except for those spoiled sports that never like to lose).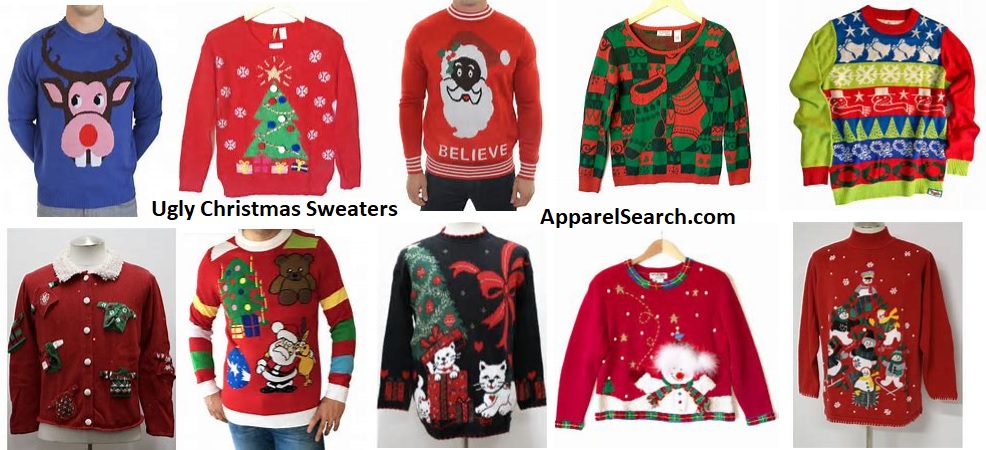 What are ugly Christmas sweaters made of?
The crimp of wool fibers makes for a dense, somewhat porous fabric. Body heat warms air trapped inside the wool, making it an extremely practical option for those living in cold climates. Wool is also highly absorbent, which actually keeps the wearer dry. The fibers can soak up nearly a quarter of their weight and still keep you warm. Wool is a fantastic fiber for sweaters (benefits of wool). However, "ugly" sweaters are not conventional. Ugly holiday sweaters are often made of synthetic fibers such as polyester.
Be cautious of the Christmas sweater itch.
Are you looking to make a DIY Ugly Christmas Sweater? You don't have to knit the sweater from scratch. You can purchase a sweater and do the "DIY" portion by embellishing the sweater with hideous ornamentation.
Here are a few examples from previous holidays.
Knitting by definition is the process of using needles to loop or knot yarn together to create a garment or piece of fabric. Knitting Christmas sweaters was a perfect past time for grandmothers to knit sweaters for grand children. Often resulting in an ugly but loving attempt.
In the opinion of Apparel Search, the absolute best ugly Christmas sweaters are do it yourself projects. The DIY sweaters should always win the awards over store bought versions. DIY ugly Christmas sweaters are always fun.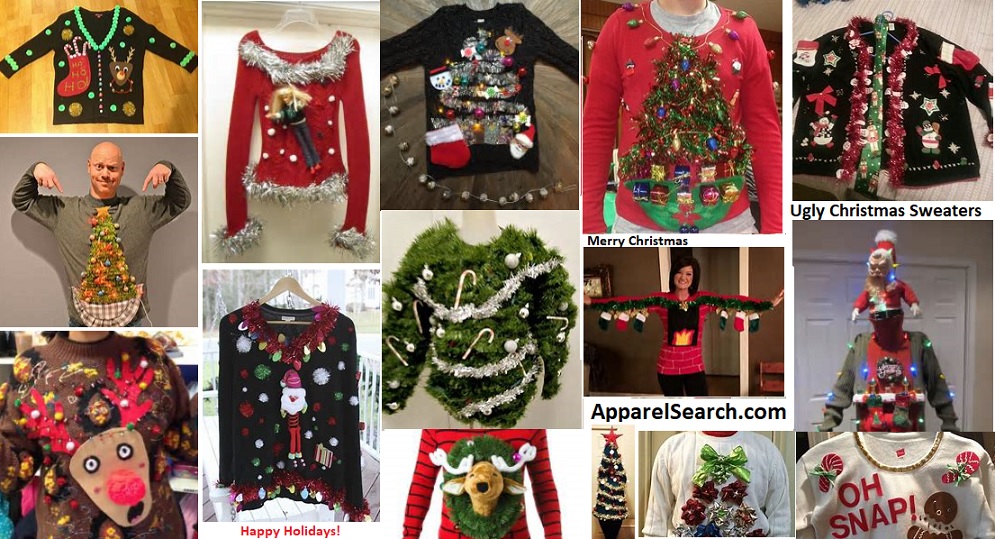 See the best DIY Ugly Christmas Sweaters.
You will even find ugly Christmas sweaters that are not actually sweaters. You will find t-shirts that get into the holiday spirit as well.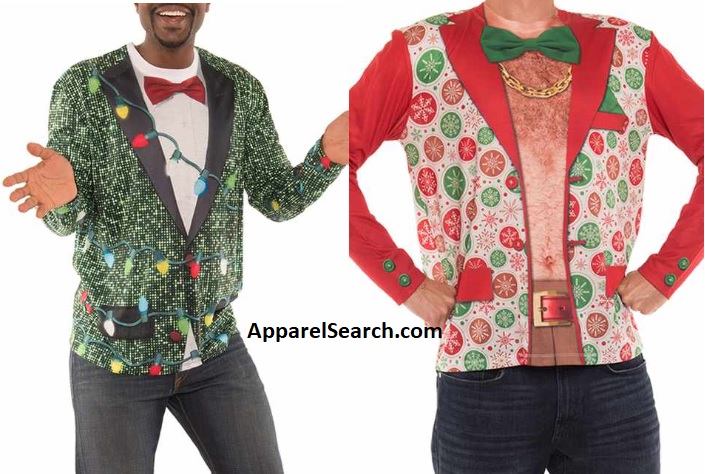 If you are tired of ugly sweaters for the holiday season, you may want to find the perfect holiday dress instead. Learn more about holiday dresses in our new fashion influence section.
Ugliness is a property of a person or thing that is unpleasant to look upon and results in a highly unfavorable evaluation. To be ugly is to be aesthetically unattractive, repulsive, or offensive.
Beauty is in the eyes of the beholder.
If you prefer to look fabulous instead of wearing a funny looking sweater to your holiday party, you might want to learn about holiday party dresses.
Thank you for using the Apparel Search website.