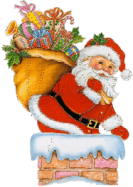 ◊ Why Santa Claus Wears Red

◊ Christmas Sweater Itch
◊ Why Does Santa Claus Wear a Red Suit?
◊ Why Does Santa Claus Wear Black Boots?
◊ Santa's Workshop Inspection Report
◊ Snowman Sweaters and Santa Claus Sweaters Should Not Be Worn by Men
◊ Why do Santa's Elves All Wear the Same Shoes?
....................................................................
What is the story with getting clothing for Christmas??? Possibly, a bad joke that Santa plays on us...
Do you enjoy receiving a sweater for Christmas? It appears that receiving socks, underwear, or a sweater for X-mas is a child's nightmare. As a matter of fact, receiving clothes may be considered a nightmare at any age (depending on which gender you ask). Actually, even if you ask the gender that typically does enjoy clothing for X-mas, they may not actually like Santa's taste in fashion... Nothing worse then finding clothing under the tree that you would not be caught dead wearing (even if you were stuck freezing in the North Pole). My personal opinion is that it is totally fine for Santa Claus to deliver clothing on X-mas morning. However, he better be delivering to other people and NOT to me...
Reasons to Dislike Receiving a Fashion X-mas:
If you receive clothing for Christmas, you clearly did NOT receive what you actually wanted (you must have wanted something better then clothes).

Shirts are not TOYS ("toys" meaning; games, electronics, cars, boats, bicycles, etc.).

Pants are not TOYS.

Socks are not TOYS.

Sweaters are not TOYS.

Flannel Pajamas are not TOYS.

Bathrobes are not TOYS.

Belts are not TOYS.

Mittens are not TOYS

Scarves are not TOYS

Wool Sweaters make you itch.

Tearing open Christmas wrapping to find socks is depressing.

Hate to be left asking, "so where are the toys???"
Note: Lingerie is an acceptable gift for Santa to bring to mom (as long as it is from Santa Claus and not some other dude named Santa or Mr. Santana)
Benefits of Receiving Fashion for Christmas:
You will have new clothes.

Santa makes your clothing so you parents do not have to spend their own money (maybe now they can afford to buy you TOYS like you wanted).

Santa has elves working as sewers, printers, knitters etc. If Santa required less clothes, they would need to find new elf careers.
Well, that is certainly a short list of benefits to receiving Christmas clothing. Yes, this list of benefits is shorter then Santa's "naughty kids" list.
Message to Santa: I hope this does not put me on the wrong list, but the reality is that if you bring me a Fashion Christmas this year, I am burning logs in the fireplace next year. Not to mention, I will certainly be eating the cookies that my wife and kids leave for you. If you do not mind, I can use some more electronics. And if it would not be too much trouble, I think my wife may be a bit out dated. A replacement under the tree would be greatly appreciated.
Make sure you have a Merry Christmas and a Fashionable New Year...
By the way, this Fashion Christmas website is clearly not realistic. We all know that CLOTHING is the most important item in the universe. Ask anyone at Apparel Search or the Fashion Industry Network. I am sure that they will tell you that fashion, style, and clothing is the key to a long life healthy life, success, and happiness.
Help support the fashion industry, give apparel and fashion accessories for Christmas. By the way, you may want to send Santa a little gift for all the years he has treated you so well. Possibly, you can do some shopping for him. After all, not really sure that red is in fashion this year...
ML91708
....................................................................
Shop for Clothing to support the elves:
Have you been a good?
History of Christmas from the History Channel.
................................................