Is it cool for men to wear Snowman Sweaters or Santa Claus Design Sweaters?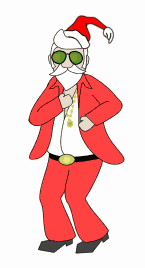 In my opinion, this is a rather simple question. However, I unfortunately have to throw one more question into the equation. The question that would help me better answer the original question is, "Is the man in question a parent?".
If you are a dad or grandfather, you are clear to wear any holiday sweater that you feel is appropriate. However, if you do NOT have children, you should not be wearing a snowman sweater or Santa Claus sweater. And for Pete's sake, please do not wear anything with reindeer or bells. Sorry if this response is offensive to you. The fact is that if you are a man wearing jingle bells, you are offensive to others.
The one exception to the rule is as follows. If your wife, girlfriend, or mother just bought you the sweater (this season; not last year), you can wear the sweater for one hour when you are with them to acknowledge your appreciation of their gift. However, when the hour is up, you must find any excuse to take off the sweater. Regardless of where you are at the time, the holiday sweater must be removed. If you are concerned that you will get in trouble, here are a few excuses you are welcome to utilize:
Excuses for removing the holiday sweater:
1) Spill something on the sweater. Inform the giver of the gift that you wish to take it off to avoid further damage and that you intend to have it dry cleaned as soon as possible so you can wear the sweater again (obviously, you should not really clean it. Toss it...)
2) Regardless of the temperature, indicate that you are really hot and wish to take off the sweater. Note: If they think you are full of BS, pretend to be dizzy and do a little side step shuffle as if you are about to fall over. Hopefully they will be understanding of your situation.
3) If you are at a party or bar with your wife or girl friend, you should go up to a good looking women and start talking to them. Your girl friend will get so mad at that situation, they will not even notice that you slip out of your sweater.
4) If your mom gave you the holiday sweater, tell her privately that you love the sweater more then anything else that you ever received. Then go onto tell her you would like to ask her a favor. Tell her that your girl friend gave you the t-shirt that you have under the sweater and you think that it is best that you wear the t-shirt only for a little while so your girl friend does not get mad at you. Possibly, your mother will think you are being sensitive to your girlfriends needs and accept your decision to remove the snowman sweater that she gave you.
If all of the above fails, LEAVE. Do not even say anything to anyone. Just sneak out the door when no one is looking. Deal with your punishment later. At that point, concentrate on simply getting out.
If you actually purchased a reindeer sweater, snowman sweater or jingle bells sweater for your self that is fine. However, please do me a favor and stick your head in ice water or possibly slap yourself in the face. Are you done? If yes.. thank you.
Note: If you are a man, and you were any of the above mentioned items, please disregard my statements. You should be comfortable with your own decisions and wear anything that makes "you" happy.